How to Pass your Learners Permit DMV Test
by Jackie Lohrey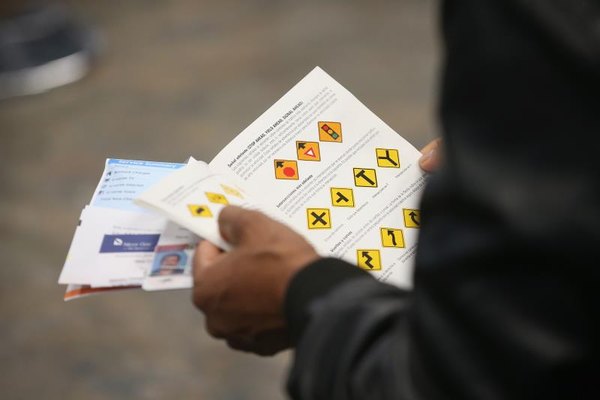 New drivers in all states must pass a written knowledge exam to get a learner's permit, start practice driving and schedule a skills-based road test. Depending on your state of residence, the exam consists of 20 to 50 multiple-choice questions that focus on traffic laws and safe driving techniques. Most states set 80 percent as the minimum passing rate. Although you can take the exam as many times as is necessary to pass, good study habits and a few tips can increase the likelihood of passing on your first attempt.
Study Your Driving Manual
**All of the information you need to pass the test is in your driver's manual.** Every state's Department of Motor Vehicles recommends that you prepare for the exam by studying the handbook. If you don't have one, visit your local DMV or download a copy from your state's [DMV website](http://www.dmvnv.com/50_state_dmv_list.html) if one is available. Most include a number of general and state-specific questions to use as you study or review what you've learned.
Use Effective Study Techniques
Study your manual using techniques designed for taking [multiple-choice exams](http://www.studygs.net/tsttak3.htm). For example, multiple choice tests usually focus on details and facts that are difficult to retain in short-term memory, so **begin studying early and study every day.** Pay close attention to terms and road sign definitions, and make lists and tables as you go through the material. Lists can be especially helpful for multi-step procedures you'll need to know to pass your test, such as how to navigate a roundabout or merge into highway traffic.
Take Practice Exams
Take as many practice exams as necessary to increase your knowledge and confidence. Practice exams are available on DMV and driver education websites. For example, the [California DMV](https://www.dmv.ca.gov/portal/dmv/detail/pubs/interactive/tdrive/exam) website offers five different online practice exams. Each one includes 10 multiple- choice questions and a separate answer sheet. [Free DMV Written Tests](http://freedmvpracticetests.com/) offers a variety of state-specific online practice tests and [DriversLicenseTest.net](http://driverslicensetest.net/) has a bank of more than 350 test questions gathered from nationwide DMV offices.
On the Test Day
If your DMV has a walk-in test policy, arrive at least one hour before the DMV closes for the day. Most states use a computer-based testing system that includes a tutorial to help familiarize you with the test interface and format. Read the instructions carefully. Note whether there is a time limit for answering each question and whether you have the option to go back if you skip questions or mark questions for review before completing the test. **The DMV is testing your knowledge, not trying to trick you, so do not over-think when choosing an answer.**
More Articles
Photo Credits
photo_camera Scott Olson/Getty Images News/Getty Images