How to Travel by Ship to England
by Fiona Wilkinson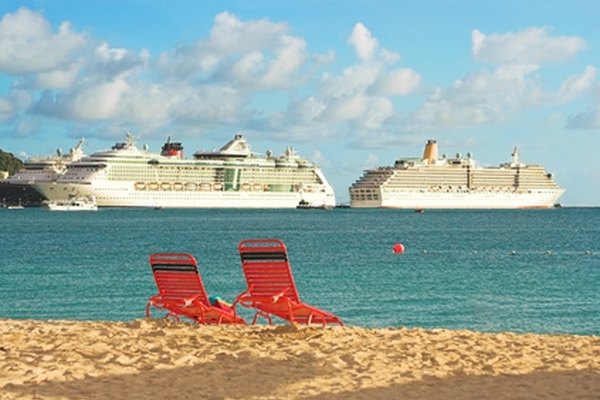 Traveling by ship to the United Kingdom from anywhere else in Europe is relatively straightforward. Daily ferries depart from Holland, France, Ireland, Spain, Germany and Scandinavia. Cruise liners also depart from these countries. As for traveling to the UK from countries outside Europe, several cruise companies sail direct routes from the United States, Canada, the Caribbean and the Mediterranean. Some cargo ships also take passengers aboard for a fraction of the price commanded by most regular passenger lines.
Buy your ticket in advance, either online or by phone, if you wish to travel by ferry from another European country at a particular time. You can also buy a ticket directly at the harbor, if space is still available. If not, you may have to wait for the next available crossing. The most popular ferry lines include P&O; Ferries, Brittany Ferries, Norfolkline, Stena, Baleria and Scanline. Cabins are available on overnight journeys. The larger ferries all have bars, restaurants and duty-free shops; some have a movie theater and children's entertainment center. Arrive at least 30 minutes before departure time, or an hour if you are taking your car on board.
Book a cruise on one of the many liners, such as Cunard, P&O; and Carnival. Times and prices vary, depending on where you are sailing from. A one-way passage from New York to London starts at around $3,000 and takes 6 days. Sailing from Lisbon, Barcelona or Gibraltar to Southampton is quicker and cheaper. Companies operating cruise lines to the UK include Celebrity, P&O; Cruises, Thompson Cruises and Cunard. Traveling to England on a cruise ship is a comfortable but relatively expensive way to travel. A cheaper option is to book as a passenger on a cargo ship.
Find a cargo carrier heading for England. Although generally cheaper, this option can take much longer. Travel from Singapore to Southampton takes about 37 nights, from Buenos Aires to Tilbury about 29, from Canary Islands to Felixstowe (in Suffolk) about 10, and from New York to Southampton about 12. Costs are around half the price of traveling on a cruise liner. Although it's a "no frills" option, you will have your own cabin, and there is a bar and lounge area. Breakfast, lunch, dinner and snacks are included in the price. All meals are served in the officer's lounge. Most cargo carriers have a gym, and some have a small swimming pool. Take a good book and don't expect massages, champagne and onboard entertainment every night.
Photo Credits
photo_camera beach chairs and cruise ships image by Elke Dennis from Fotolia.com