How to Replace a Truck Bed With a Flatbed
by Russell Wood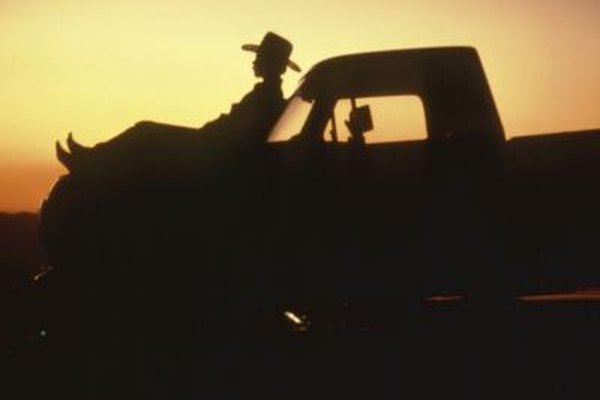 Although trucks are versatile vehicles, not everyone is a fan of a traditional pickup bed. It's great for storing items in one place; but if you need to carry wider loads or can't have the restrictions of a bedside, a flatbed is a good option that is affordable, and it can even be built by yourself if need be. The installation process should only take an hour or so, but does require some heavy lifting.
1
Drop the tailgate and use the Phillips head screwdriver to unscrew the taillights from the bed. Pull out the taillights and unplug the wiring from the back of each light. Pull the wiring for the taillights out from the hole in the bedside for the taillight, and make sure there are no wires or tie downs holding the wiring to the bed.
2
Unscrew the gas filler neck from the bedside by opening the gas door and using a Phillips head screwdriver. Reach through the bedside of the truck and pull the gas filler neck down under the bed so it's out of the way.
3
Unbolt the bed from the frame using a 1/2-inch ratchet, extension and socket. Space your assistants around the bed evenly so that you can distribute the weight of the bed among the group. Lift the bed up then walk it backwards, opposite the cab, and put it down out of the way.
4
Space your assistants around the flatbed kit and lift it up vertically, then move it and set it down on top of the frame. Use the factory hardware and a 1/2-inch ratchet, extension and socket to bolt the flatbed kit into place. Plug the factory taillight wiring into the taillight harness on the flatbed truck kit.
5
Lift up the gas filler neck and screw it to the bottom of the flatbed using a Phillips head screwdriver. Turn on the truck and make sure that the taillights work correctly.
Warning
close There is a lot of heavy lifting to get the old bed off and the flatbed on, so make sure to have enough assistants to get the job done. Always use more people than you think are going to be necessary as the job just gets easier the more help you have.
Photo Credits
photo_camera Ablestock.com/AbleStock.com/Getty Images