Study Guide for a CDL Permit
by David McGuffin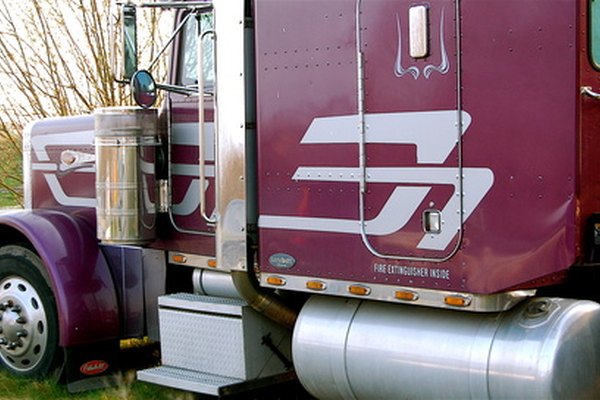 If you are considering a career move to the trucking industry and are prepared for life on the road, you need a Commercial Driver's License (CDL). Obtaining a CDL permit is the first step toward obtaining a CDL, which will allow you to drive most tractor trailers with the exception of large construction equipment and loads of hazardous materials. Knowing which topics to study for the CDL permit test will help advance your new career.
Test Preparation
There are nine different versions of the CDL permit test. There are 100 questions on the test; you must answer 80 percent correctly to receive the CDL permit. Once you receive a permit, you will have one year to obtain your CDL. If you do not obtain your CDL, you may retake the instruction permit exam. If you fail the CDL permit exam three times, you must wait 30 days from the date of the last failure to retake the test again. Three areas of study for the permit include general knowledge, air brakes and combination vehicles.
General Knowledge
The general knowledge section may contain questions regarding basic mechanics, maintenance and driving safety. While there is no predictor for which questions will be asked on your exam, different topics may include: inspecting your vehicle before driving; vehicle controls and shifting; controlling your speed; managing space around your vehicle while driving; and driving in different conditions. Other general knowledge areas can include driving emergencies, mountain driving, fires and hazardous materials rules that apply to all commercial drivers.
Air Brakes
Most commercial vehicles are equipped with air brakes, which differ from normal anti-lock brakes. Test questions can include: the different parts of the air brake system; how to use the dual air brake; how to inspect the air brake and using the air brakes. Potential test questions may ask about spring brakes; why air tanks need to be drained; the three different components of an air brake system; slack adjusters; testing the low pressure warning signal; maximum leakage rates; downhill braking; and failures that can lead to brake failure.
Combination vehicles
Combination vehicles involve tractor-trailer doubles; triples and straight trucks with a trailer. Test questions for the combination vehicles section may include: how to inspect a combination vehicle; coupling and uncoupling; how to inspect double and triple trailer combinations; anti-lock braking systems; and driving considerations for combination vehicles. Other questions may involve: rollover prevention; off-tracking; trailer jackknife prevention; turning; rearward amplification; and emergency air lines.
Variations
Contact your local DMV for any training materials offered for the CDL permit exam. While the test may vary slightly from state to state, the content and general knowledge base will be much the same. To study and prepare for the test, also use online resources for building your general knowledge and taking practice tests.
References
More Articles
Photo Credits
photo_camera Truck image by JASON WINTER from Fotolia.com