How to Fix a Flat Tire
by Contributor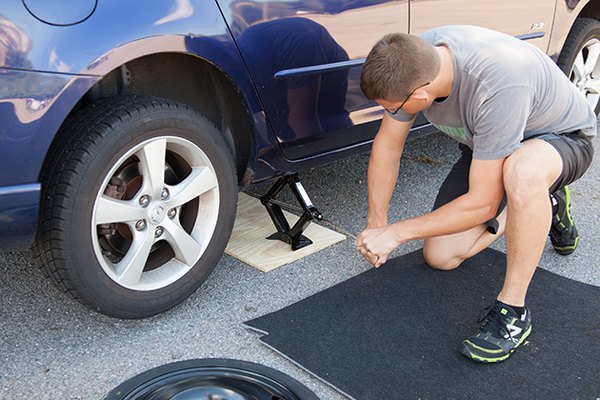 No matter what car you drive, odds are that sooner or later you're going to get a flat tire. Cell phones and towing services offer some peace of mind, but knowing how to fix a flat tire on your own can give you confidence and will get back on the road in no time. Here's how to handle a blow-out when it happens.
Do Your Homework
1
**Prepare in advance.** The best way to learn is by doing. It's worth it to spend 20 minutes in your driveway today practicing for the inevitable.
2
**Familiarize yourself with your vehicle owner's manual.** Most cars have the spare tire and equipment in a recess in the trunk, under the carpet. Not all vehicles are the same, though, and it's always the little things that cause the biggest problems. Many tires are secured in trunks using large wing nuts or clamps, which may either stick or be too difficult to turn for some. Truck tire-winch cranks tend to stick -- and that assumes you can find the cranking mechanism in the first place. Learn your vehicle and equipment, and how your system works.
3
**Locate the designated jacking points.** Many vehicles have flat, easy-to-identify factory jacking pads under the body -- they're like little plateaus protruding from the chassis. Some have pressed-in detents or impressions meant to interlock with matching teeth on the factory jack's lifting pad. If you don't see a factory lift pad, look for a vertical ridge of metal sticking down from the bottom of the chassis. This is the "pinch weld," the strongest part of the chassis, where the body is welded to the floor. In this case, your jacking point is under the pinch weld, as near to the wheel opening as possible. Check the function of your jack. If you have a typical "scissor" jack, you'll slip the crooked end of the jack handle through the hole in the end of the screw part, and crank the screw clockwise by turning the handle. If you have an old lever-type, you'll insert the lug wrench into the receptacle and crank up and down.
4
**Inspect and prepare your equipment and spare.** A spare tire doesn't do much good if it's as flat as the tire you're taking off. Check your spare tire every couple of months to make sure it's up to pressure, and make sure the jack, spare wheel clamp and tire winch work and release as intended. A bit of penetrating oil on the jack and mechanism threads can help to ensure things move smoothly when they need to. Once you're sure everything's working as it should, keep your trunk as free of cargo as possible. Not only will that help your gas mileage, but to get to your spare, you're going to have to remove everything on top of it. The side of the road in the dark, when it's raining, is not the time to realize you've been carrying around those boxes of books you've been meaning to donate, all the kids' hockey gear and your golf clubs.
5
**Add your own equipment.** The factory lug wrench is hard to use, and potentially dangerous. It's a good idea to carry an aftermarket four-way lug wrench; a four-way makes it easier to both remove and tighten lug nuts. Also, carry a 12 by 12 inch piece of ¾-inch plywood to place under your jack. This is important enough to go to a building supply and have one cut for you. Factory jacks have small bases, which work well on concrete but tend to sink or slip on grass, gravel or dirt. Two short pieces of two-by-four lumber are helpful as wheel chocks, to keep the car from rolling off the jack.
6
**Stash extra items for yourself.** A pair of leather work gloves can make for a much less unpleasant experience, keeping grease and grime off your hands. A plastic rain poncho can protect your head and back from a downpour, or it can go on the ground to protect your pants and knees from dirt, as can a towel. A roll of paper towels and wet naps can help you clean up afterward. Keep a flashlight and good batteries in your kit, so at night you can see what you're doing or signal help, as need be. Ladies fond of driving in heels might consider keeping a pair of cheap, slip-on shoes with their spare tire kit.
The Real Thing
More Articles
Photo Credits
photo_camera Kate VanVleck/Demand Media