Things to Know About a 750 Shadow
by Nicholas Pell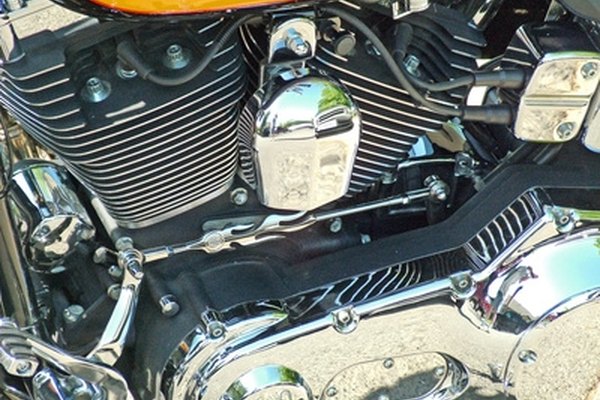 The Honda Shadow 750 is a popular cruiser motorcycle for its price and specifications. More powerful than a starter bike due to its larger displacement, the Shadow 750 is primarily for experienced riders. If you are looking at buying your first Shadow 750, there are some important things to know about the bike before taking the plunge. The bike comes in two models as of 2009, the Honda Shadow Spirit 750 and the Honda Shadow Aero.
General Specifications
The Honda Shadow 750 2009 model is made of a steel frame and plastic body parts. The engine, despite the name, is actually 745 cubic cm and is a four stroke v-twin type. It has a 3.7 gallon gas tank, but does not come with a warning mechanism for when your fuel levels are low. The transmission is only available in a manual five-speed version. It has an electric starter and a double carburetor type fuel system.
Difference
There are few differences between models that are not aesthetic. The same general specifications apply to both bikes. However, there are minor differences in the frame. For example, the seat on the Spirit sits at 652.8 mm from the ground, while the Aero seat is at 657.9 mm. Further, the Spirit has a one-piece seat, while the Aero seat is a two-piece. The Spirit has a slightly higher engine displacement to weight at 1.48 compared to the Aero's 1.43. Finally, the Aero is a heavier bike with a 519.4 lb. dry weight compared to the Spirit's 503.5 lbs.
Colors
With the exception of black, the two bikes do not come in the same color. Your color preference will thus have a large bearing on which bike you wish to buy. The Spirit model comes in pearl white with silver pinstripe, pearl black with red pinstripe, and a mix of candy dark red and metallic silver. The Aero model comes in candy dark red, black with snakeskin pattern, metallic titanium and white, and a pearl blue and metallic silver mix.
Upkeep
Honda prides itself on making bikes that you can ride without spending a lot of time working out the kinks. To aid in this regard on the Shadow 750, both bikes have solid state ignition and cam chain adjusters that work automatically. The bike also comes with a 12-month warranty when your purchase it new.
Pricing
The two bikes are the same price. Both of the most recent models (as of 2010) retail at $6,999.
More Articles
Photo Credits
photo_camera motorcycle image by Greg Pickens from Fotolia.com