How to Tell the Age of a Model T Ford
by Dakota Wright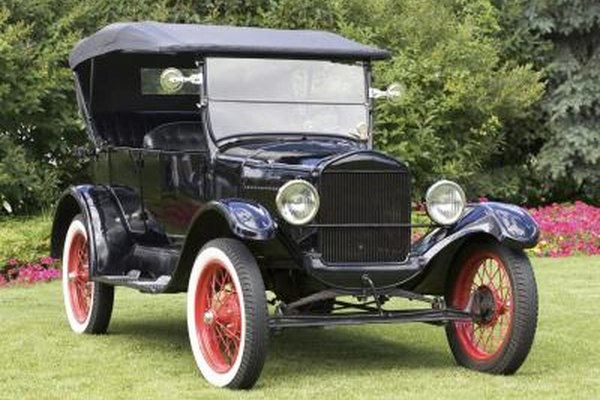 The Ford Motor Company manufactured the Ford Model T from 1909 to 1927. The Model T was the automobile built for the masses. Made only more popular by its dependability. Henry Ford believed in building things right, the first time, so much so that "admitting" any changes to the Model T design could be risky.
Through 19 years of manufacturing the Model T was unchanged, or so it would seem. Publicly the "already correct" Model T never changed, privately numerous small changes were made in the elements of the automobile. These changes, in most cases, are so minute that identifying year models is difficult.
1
Use a magnifying glass to check the engine serial number (above the water tank). Ford kept precise records of each Model T manufactured and sold from 1908 to 1927. Refer to the serial number list at the link in the Resources section below, to the Model T Ford Club of America's encyclopedia.
2
Examine the headlamps. The Model T produced before 1915 had gas powered headlamps with Prestolite tanks. Starting in 1915 Model T's manufactured, after the beginning of the year, were equipped with electrically powered headlamps.
3
Examine the shape of the door design. Model Ts manufactured after the middle of calendar year 1914 had rounded corners on the doors setting the precedent for all future models.
4
Look for lettering (C, R, B) on the three shifting pedals. This lettering stands for clutch, reverse and brake. Lettering affirms that the Ford T in question was built before 1915. All Model T's built after September, 1915 had a new ribbed pattern or were smooth surfaced on the pedals.
5
Look for an instrument panel. A factory installed instrument panel was manufactured and available in 1919. Model T's built before this time were non-electric and did not require a panel.
6
Count the number of operable doors. Model T's built before the year 1914 did not come with an operable driver door. Model T's with four operable doors were built after 1921.
7
Examine the materials used to make the Model T. Post 1924 production saw the use of more steel and less wooden framework. By 1926 all Model T's excluding the Fordor Sedan were made completely of steel.
Tips
check 1918 was the last year the Town Car Model T was made.
check 1916 side windows on the Couplet Model T were introduced.
check In 1919 closed cars no longer had oil lamps.
check In 1924 balloon tires became an option on the Ford T's.
check 1926 saw the addition of the Roadster Pickup to the Ford Model T line.
check In 1920 Ford offered electric ignition as an option. Automobiles with electric "start" did not have side lamps.
References
Photo Credits
photo_camera Peter Mah/iStock/Getty Images