How to Start a Model T Ford
by Thomas West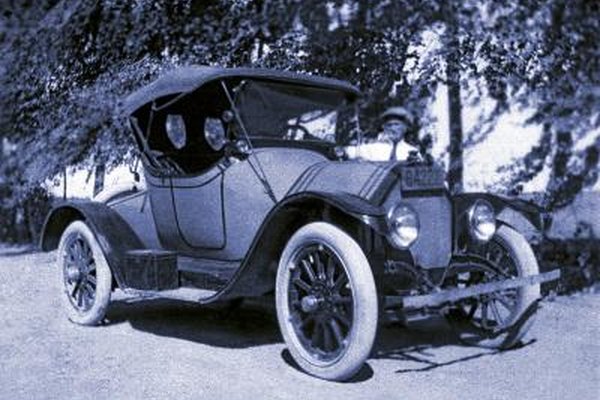 The Model T was Ford's first successful attempt at making a car and, in fact, was one of the most popular cars manufactured at the time, with over 15 million produced from 1908 to 1927. The Model T used a low compression four cylinder engine and a two speed planetary transmission. Model Ts were started by a crank at the front of the car below the radiator. The Model T was produced many years before electronic engine controls were ever thought of, so merely turning the ignition key is not enough to get a Model T running.
1
Chock the wheels to keep your Model T from jumping forward when it is started.
2
Open the hood and turn the fuel supply on by turning the fuel petcock handle (located on the fuel line near the carburetor) so that it is parallel with the fuel line. Close the hood and latch it.
3
Sit in the driver's seat and push the spark advance lever on the left hand side of the steering wheel all the way to the top. Move the throttle lever on the right hand side of the steering wheel to its center position.
4
Move the handbrake lever (at the left of the driver's seat) to the rear to put the transmission into neutral.
5
Insert the key into the coil box (ignition switch) on the dashboard and turn it.
6
Exit the vehicle and move to the front of the car. Wrap your fingers around the engine crank, keeping your thumb folded in. Turn the crank over one time in a clockwise direction. Repeat this step until the car starts.
7
Move back to the driver's seat and shift the spark advance lever down until the engine is running smoothly. Have a helper remove the wheel chocks when you are ready to get underway.
Warnings
close Model Ts have a tendency to jump forward after they are running. Always use wheel chocks when starting a Model T. Some "old timers" do not use chocks and will run and jump into the car once it is running, but this should not be your preferred method of starting your Model T. Your car could be damaged, or you can be seriously injured.
close Do not wrap your thumb around the engine crank when starting a Model T; instead, wrap your fingers around the crank and fold your thumb in. If you do not, you could end up with a broken thumb if the engine backfires while you are cranking.
Photo Credits
photo_camera Jupiterimages/Photos.com/Getty Images