Soft Top Jeep Wrangler Instructions
by Jen Hale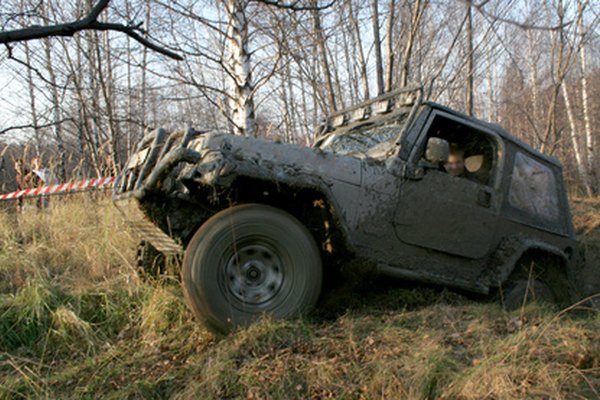 Jeep, established in 1941, is the oldest off-road vehicle. Many find this a great family vehicle, a car for towing or even for 4x4 driving. Many find personalization a great part of owning a jeep, as there are many products available to make ones' vehicle unique. The soft top is a popular choice for many, and correct installation makes this an exceptional addition to any Jeep Wrangler.
1
Place the metal soft top frame on the Jeep. There are rails on either side of the Jeep above the wheel wells. The frame slides onto the rails and stops at the doors. There are two arms that rise from the sides of the frame and connect to the sides of the windshield. No tools are required to connect the frame over the Jeep.
2
Grasp the soft top, and carefully lay the top over the frame. The windows should be placed aside.
3
Insert the plastic strip along the front end of the top into the rail that is at the highest point on the windshield. Moving to the rear corners, pull each side so the plastic strip, or runner, is placed into the corner retainer on each corner. This process keeps the soft top in place.
4
Enter the Jeep and snap the Jeep soft top to the center and rear of the frame.
5
Zip the passenger-side windows to the soft top, then place the plastic runners into the retainers. The zippers are on the top and side of the window, and the runners are on the opposite side and the bottom of the window.
6
Insert the rear retainer bar into the bottom portion of the rear window. Move to the top and side zippers and attach the window to the back end of the soft top. Slip the retainer bar and ends onto the window. Slip the bar onto the runner on the Jeep above the tailgate.
7
Install the front windows into the doors, if applicable. The three metal pins on the windows are placed into the grommets on the door. The plastic strip is inserted into the runner. A snap is connected to the door closest to the hood of the Jeep. If you own full steel doors, skip this step.
8
Snap the soft top snaps onto the frame, above the drivers' and passengers' windows to hold the top in place while driving.
Photo Credits
photo_camera extreme off-road image by krysek from Fotolia.com