RV Interior Ideas
by Mary Schultz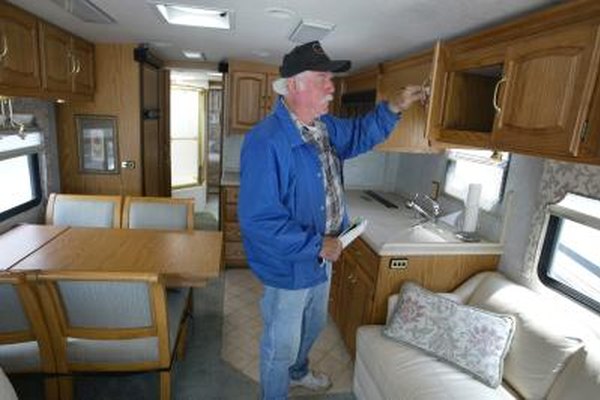 A recreational vehicle may arrive from the factory with certain features, but nothing requires you to keep all of them forever. After all, your travel needs may change as children grow and get their own RVs. You may want custom touches. Your RV may still be serviceable and travel ready after a few years of wear, but cosmetic updates would make it more appealing. Here a few RV interior ideas to freshen up the rig.
Replace a Sofa with Chairs
Many RVs come with furniture that is not comfortable. A jackknife sofa, for example, is designed to fold easily into a bed and roll back up for seating. These devices may be stiff and straight, not inviting. Remove the sofa and replace it with chairs. Often, the sofa will be wedged between two cabinets. Without the sofa, the cabinet sides are open and exposed. A simple solution is to purchase hardwood of a grain similar to that of the cabinets. Have the wood cut to size to enclose the cabinets, and stain it to match the existing finish. Before you install the wood cabinet panels, finish the floor edge at the bottom. One crisp-looking method is to wrap a cotton or polyester cord with vinyl fabric in a color that coordinates with the décor. Staple or sew the fabric tightly to the edge of the cord. Staple the welting to the floor where the new cabinet cover will adjoin. If the floor covering beneath the jackknife sofa differs from the balance of the living space, add a metal threshold to cover the junction. Bring in furniture of your choosing such as recliner chairs. If you have decorative trim left from the removal of the sofa, save it. You may be able to apply it to the wall behind the new chairs for a designer touch.
Convert Glass Mirrors to Acrylic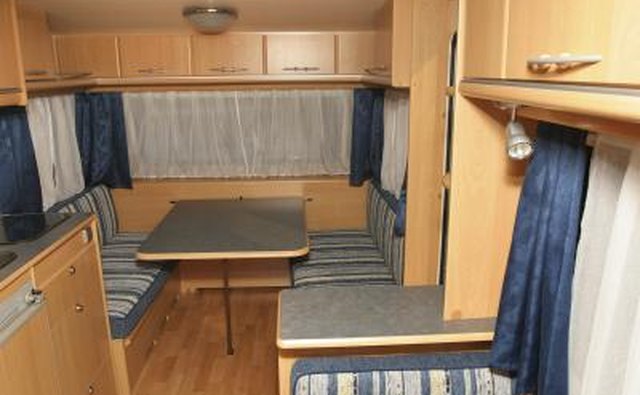 Many RVs are equipped with beveled glass mirrors and cabinet fronts. These look elegant but are prone to shattering. You can remove the glass mirror cabinet fronts or gold-trimmed glass cabinet doors and replace them with a product that will not shatter. Get acrylic panels cut to size from a plastic or acrylic shop. Some of these shops also make custom trophies and custom car parts. Acrylic weighs far less than the glass it replaces. It is highly reflective to make the living space appear larger, just as the mirrors did. Measure the space where the acrylic sheet will be inserted. When it is custom cut, it is protected with a removable polyethylene scratch coating. The acrylic sheets are protected with a durable scratch-resistant coating that you remove on installation. For care, remember that acrylic is not glass. Paper will scratch it, so do not use paper towels. Window cleaner will discolor it. Use a soft, water-dampened cotton cloth to clean it.
Update Wall Finishes with Trim
RV wall finishes can look dated after a few years. If the walls have no wallpaper trim, purchase a roll or two of wallpaper border in a color and design that will compliment existing décor. Common places for this addition are at the top of bathroom walls and over a window or dinette. If the wallpaper is water-resistant and washable, consider using it behind the stove top and as a backsplash behind the sink.
References
More Articles
Photo Credits
photo_camera Tim Boyle/Getty Images News/Getty Images