How to Negotiate When Buying a New Car
by Kathleen Bunn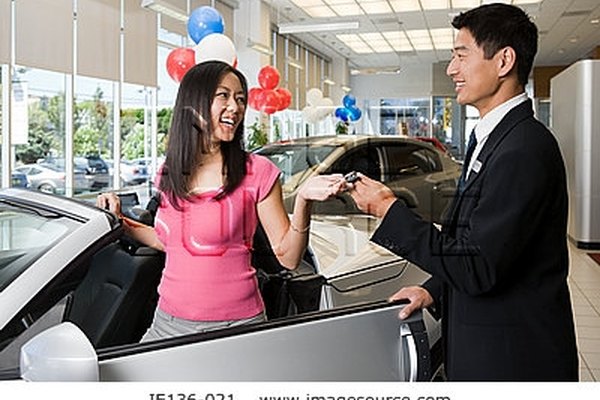 When buying a new car, knowing how to negotiate is one of the most important skills you will need. Negotiating the right way, can lead to a lower price, better interest rate, and additional upgrades. As a consumer you hold all the cards. In other words, the car dealer depend on you to buy. So, it is always important to remember, that you must remain in charge at all times when negotiating the price and terms of a new car purchase. Follow the steps listed to learn how to negotiate when buying a new car.
Remember that you are in charge. This is the most important step in negotiating a new car purchase. Start negotiations knowing that you are in charge.
Remain flexible as to the type, color, or style of car you want. Often, a better price can be had on a vehicle that is of a slightly different style or brand than you have in mind. If you walk into a dealership and say you want a blue Ford F150, you limit your choices for negotiation. Consider saying, "I am looking for a pick up truck".
Determine a set price that you want your monthly payment to stay at or below, and don't budge from that amount. When you find the vehicle that you want, explain that the payment cannot be over, for example, $120 a month. The dealer will lower finance charges, drop the price of the car, or take other actions to get you into that vehicle. Don't ever seem like you would pay more per month, or you will be paying $300 a month instead of $120.
Shop around. Look at what is available, and narrow your options accordingly. Tell each dealer of the lower prices offered by his competitors. The dealer will race to beat the other price in order to make the sale. In this instance, the knowledge you gained from shopping around is negotiating for you.
Find the value of your trade-in vehicle before visiting the car dealership. Look on the Kelly Blue Book site for the fair trade-in value of your car. If the dealership tries to offer you a lot less, then call him on it, and negotiate a better rate.
Require that an extended warranty be included in the quoted price of the car. Most new cars now come with free extended warranties, but if yours does not, ask that one be included. With the cost of repairs going up, this is an essential negotiating point.
Ask to speak with another salesperson if you aren't getting satisfaction from the one who is currently helping you. At most car dealerships nationwide, dealers work off of commission. If the person helping you does not want to budge on the price, ask to speak with someone who is a little more eager to make a sale.
Look for something that might be slightly wrong with the vehicle you are purchasing. Even the slightest scratch can result in hundreds of dollars being deducted from the car's price.
Refuse to fall for sales gimmicks or hidden fees by reading all paperwork thoroughly. Don't think or assume that you are getting a lower interest rate. Instead, read all paperwork before signing. The paperwork process is where the car dealership will try to rush you. They will sit you in a room with someone who speaks really fast, encouraging you to sign papers you have barely looked at. Don't fall for any of this. You can take as long as you need to go over all the paperwork involved.
If all else fails, walk away. You just need to show that you won't give in or accept anything less than what you say you will accept. See the resources below for more information on negotiating when buying a new car.
Tips
check Do not budge on your terms at any point during the car buying process.
check Shop around for various rates and terms.
check For better negotiating power, do not have your heart set on any particular vehicle.
Warnings
close Don't sign anything until you have read it through completely, and agree to the terms outlined within.
close If the dealer lowers the price of the car, be sure he does not add the value back in hidden fees.
close Refuse to pay exorbitant paperwork filing fees.
More Articles
Photo Credits
photo_camera http://www.imagesource.com