Jeep Wrangler Hardtop Problems
by Bud Maxwell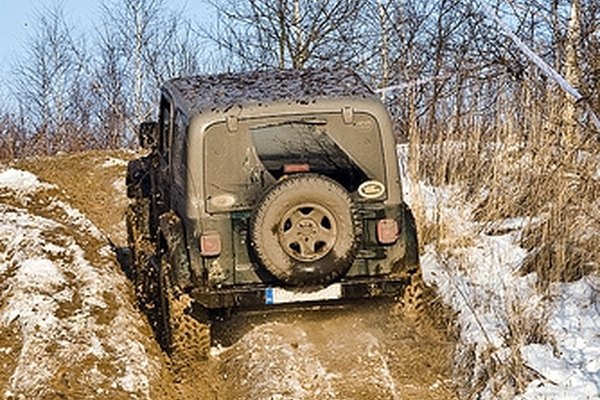 Those who own a Jeep Wrangler will tell you there's nothing quite as much fun as driving one off road with the top down in the fresh air. But getting that open-air feeling requires either you purchase a Jeep with a soft top that can be folded down behind the rear seat, or buying one with a hardtop that requires at least two adults to remove.
Hardtop Construction
The hardtop on a Jeep Wrangler is constructed of fiberglass and painted to match the color of the vehicle. It has two side windows and a lifting rear window, making access to the small rear storage area easy. The hardtop is fastened to the Jeep by six bolts, three on each side, and three screws that affix to the top of the windshield.
Removing the Hardtop
Since the hardtop for the two-door model only weighs about 140 lbs., it's not too heavy for two adults to handle, but it is cumbersome. The bottom edges of the hardtop are fairly sharp, so heavy leather gloves are recommended. Once the bolts and screws are removed, place them safely in a paper bag and put them in your glove compartment. You will need them when you put the top back on.
Storing the Hard Top
Once you have wrestled the top off, what do you do with it? If you set it on your garage floor, you'll just be wasting parking space, and if you place it outside, you're just inviting fading from the weather. Many Jeep owners purchase hoist and hanging kits so they can store the top hanging from the rafters in their garage. This not only keeps the top out of the way for parking but eliminates the struggle of having to lift it on and off the Jeep.
Caught in the Rain
If you live in a region where it snows, having a hardtop is advantageous. No matter how good a soft top is, it always seems to have a few leaks, which does not occur with a hardtop. But remember that with your hardtop off you run the risk of being miles away from home when that sudden rainstorm hits, and with it hanging in your garage your only choice could be a folding tarp or a big umbrella.
Common Causes of Damage
The most common cause of damage on a Wrangler hardtop (other than traffic accidents) is dropping it while taking it off or putting it back on. While two strong adults can do the job, it is much easier with three or four. Even though repairing fiberglass is not difficult, it's a different situation if the rear window is damaged. Used replacement hardtops are expensive; a good one will run you at least $1,200.
References
More Articles
Photo Credits
photo_camera Image by Flickr.com, courtesy of looking for inspiration...) (Jacek Korona