Installation Instructions for Harley Davidson Signal Mirrors
by Chris Gilliland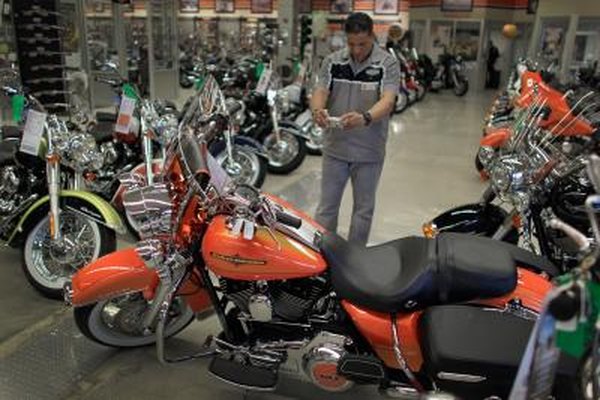 Turn signals are considered by motorcyclists to be one of the biggest detriments to the appearance of a motorcycle and often appear as bulbous, amber eyesores attached to the handlebars or frame. Harley-Davidson now offers a set of mirrors with integrated turn signals to improve the aesthetic flow of their famous motorcycles. While installation of the mirror itself is fairly simple, wiring the integrated signals takes some preparation and electrical competency.
Preparation
Obtain a factory service manual made specifically for your Harley-Davidson motorcycle. These manuals will help familiarize you with your motorcycle's electrical system as well as providing detailed removal and installation instructions. Gather a basic understanding of the front turn signals wiring locations and removal process before beginning. Next, lay out the parts included with your new turn signal mirror kit. Take a few moments to ensure that all necessary parts are present and in working order. Finally, protect yourself from electrical shock by disconnecting the motorcycle's battery. If you own a Sportster or VRSC (V-Twin Racing Street Custom) model, locate the Maxi-fuse behind the left side cover and remove it instead of disconnecting the battery.
Factory Mirror and Turn Signal Removal
Remove the mirrors by unscrewing the acorn nut or lock nut on the underside of the brake and clutch lever perches, then twist the mirror counterclockwise to unscrew it from the perch. Some models, such as the FXSTD (Deuce), FLSTF (Fat Boy) and all Dyna and VRSC models use a ball stud-type clamp that secures the right-side turn signal to the bottom of the mirror post. To remove the mirror and turn signal, loosen the ball clamp by rotating it counterclockwise, then remove the mirror as normal.
Lighted Mirror Installation
Install the new mirrors onto the clutch and brake lever perches, inserting the power wire leads through the perch first. Twist the mirror clockwise until it is seated against the perch. Attach the gray ground wire lead to the bottom of the mirror post, facing the flat edge of the ground terminal upwards. Secure the mirror by adding washers and the acorn or lock nut.
Turn Signal Wiring
Locate the motorcycle's wiring harness; refer to a service manual for the location of your specific motorcycle's harness. Road King models (FLHR) have their harness hidden in the headlight shell, while larger Touring models often secure the wiring harness in the front fairing. Once you have located the harness, trace the wiring from the original turn signals back to the harness to locate each signal's connectors. Disconnect the original signals and attach the new signal mirror's wiring Y-harness in its place. Route the new harness back to the handlebars and connect the first connector on the Y-harness to the signal mirrors. If desired, you may retain the use of the original turn signals by connecting them to the secondary connector on the wiring Y-harness.
More Articles
Photo Credits
Joe Raedle/Getty Images News/Getty Images