How to ID a Farmall Tractor
by J. Johnson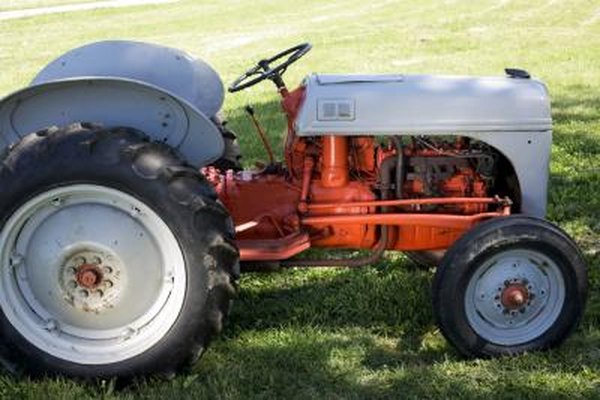 Farmall tractors were originally produced by International Harvester and were introduced to the market in 1924. At the time, International Harvester's main competition in the tractor industry was Ford's tractor, the Fordson. The biggest selling point for the Farmall tractor was its ability to be used on crops like cotton and corn. Many models of Farmall tractors were produced and their significant traits make it possible to identify individual models.
1
Examine the structure of your tractor. If it's a Farmall tractor, it will have a tricycle-like design with two large wheels in the back and two smaller wheels close together in the front.
2
Check to see if your tractor has any other significant characteristics of a Farmall tractor. These traits include high rear-axle clearance, gear drive, automatic braking, vertical steering column, belt pulley and a four-cylinder engine.
3
Find the model number of your tractor to determine if it's a Farmall tractor. The model number is actually a series of numbers and letters that can be found on the side of the tractor. An early model was named the Farmall F-20. As modifications were made to this tractor, the numbers after the F were changed. Later, the Farmall letter series tractors were introduced, with model numbers starting with A, B, C, H or M.
4
Determine how many plows your tractor has and compare the model number you found to the model numbers that correspond with the amount of plows on the tractor. For one-plow tractors, the model numbers for a Farmall tractor are A, Super-A, B, BN, 100, 130 and 140. For two-plow tractors, the model numbers are F-12, F-14, C, Super-C, 200, 230, 240, 404, F-20, H, Super-H, 300, 350, 340 and 504. For three-plow tractors, the model numbers are F-30, M, Super-M, 400, 450 and 460. For four-plow tractors and up the model numbers are 560, 656, 706, 806 and 1206. If you find one of these model numbers, your tractor can be identified as a Farmall tractor.
Tip
check If you're unable to ID your tractor as a Farmall tractor, you can try contacting an antique dealer who specializes in farm equipment. An antique dealer may be able to properly identify your Farmall tractor. Unfortunately, the manufacturer has gone out of business, so it's not possible to ID your Farmall tractor by contacting International Harvester.
More Articles
Photo Credits
photo_camera Creatas Images/Creatas/Getty Images