Ford Radio Installation Instructions
by Leonardo R. Grabkowski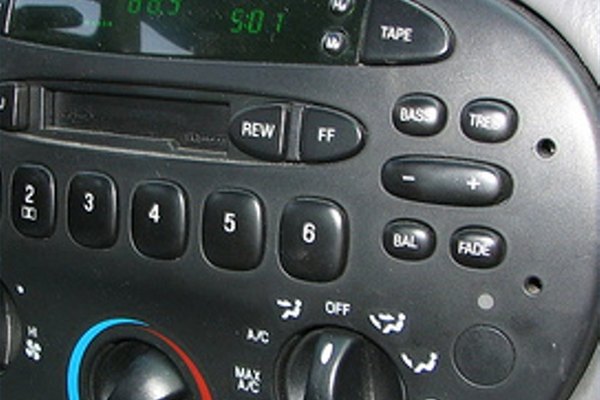 Ford vehicles, such as the Mustang, F150 and the Taurus, have a special design that makes swapping the radio out easy, even for the amateur. Installing a new radio will only require the Ford radio hook tool or an aftermarket equivalent, unless you are installing an aftermarket radio. Aftermarket radio installation is a little more difficult and will require wire cutters to convert wiring harnesses and a screwdriver to remove the radio mount. Replacing a Ford radio is the same in every vehicle except for the F250 and vehicles equipped with the Shaker 500 stereo.
Removing the Old Radio
Disconnect the negative battery cable in your Ford vehicle before attempting to work on the radio. Wiring components can cause electrical shock; disconnecting the negative battery cable will keep you safe. Ford vehicles have an easier access factory radio than many other vehicles. A special tool is required to remove Ford radios, called a Ford hook tool. Aftermarket equivalents may be available at auto parts stores. Locate the small holes at each corner of the radio and insert the hook tool. Push the hooks outward to release the radio clips, and the radio will easily slip from the dash. Disconnect the modules and the antenna cable from the old radio.
Installing the New Radio
If you are installing an aftermarket radio in your Ford vehicle, you will need to obtain the proper mounting and wiring kit. Replacing the radio with another Ford factory radio requires no mounting modifications or wiring modifications; the connection modules simply plug into the rear and the radio clips lock when inserted into the dash. Install an aftermarket radio by following the specific package instructions. First, you need to remove the factory radio mount by accessing the screws located in the empty radio slot. Install the proper mount with the hardware supplied, and then convert the vehicle's wiring harness to a wiring harness compatible with the aftermarket radio.
References
More Articles