Facts About the Dodge Viper
by Rob Wagner
The Dodge Viper is an example of unleashed testosterone. It is a lion with a mighty roar and a peacock in full plumage--it wants to be noticed. Launched in 1992, the V-10 Viper is a sports car that demands the full attention of its owner. It's not a car for the fainthearted.
Background
Development of the Viper began in 1989, ostensibly as homage to Carroll Shelby's AC Cobra. It was also a marketing exercise for Dodge and an effort to assert its super-car credentials. Early stylists on the Viper included Shelby and the design studio of Lamborghini, which was then owned by Chrysler.
Debut
Specifications
Vipers through 1995 were equipped with a 400-horsepower, 8-liter V-10 that generated 465 pound-feet of torque through a six-speed manual transmission. The car was built on a 96-inch wheelbase and was 175 inches long. Its curb weight was 3,284 lbs. The V-10's displacement was later boosted to 8.4 liters to generate 600 horsepower and 560 pound-feet of torque. The retooled Vipers are heavier at 3,460 lbs.
Performance
The early Viper could go from zero to 60 mph in 4.6 seconds and run the quarter-mile in 13.1 seconds at 112 mph. Top speed was 180 mph. The larger engine in the 2008 and later models allows a zero-to-60 time of 3.5 seconds and a quarter-mile time of 10.9 seconds, with a top speed of 202 mph.
Interior
The early Viper's interior was a no-frills affair typical of high-performance cars in an effort to reduce weight. There was adequate lumbar support from the seats, but there were no side windows or exterior door handles. The vehicle came with a soft top. Eventually, Dodge provided amenities such as a six-CD changer, seven-speaker audio system, tilt steering wheel and full-power accessories.
Exterior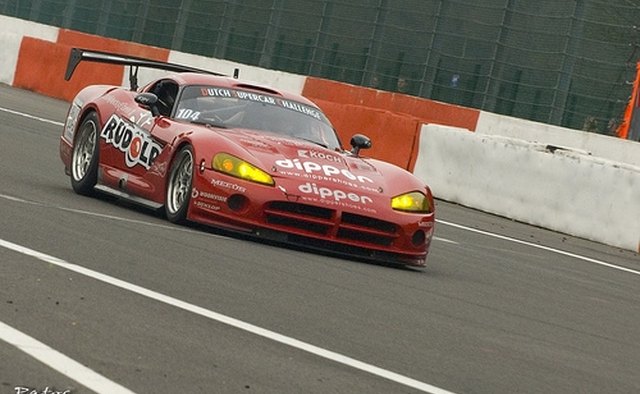 The exterior of the later Vipers is brawnier and a bit more exaggerated than previous generations, kind of like a Corvette on steroids. It features the "double bubble" top that debuted in 1996 when the coupe was offered alongside the roadster. There's no mistaking the aggressive character and what lurks under the hood.
Handling
The $87,000 two-seat Viper is an outlaw in the civilized world. It's unforgiving to the inattentive driver and too much car for most people. It lacks the finesse of a Corvette Z06, but it's not a car meant to be driven to afternoon teas. The driver rarely feels entirely confident when cornering a Viper at high speed.
More Articles
Photo Credits
photo_camera Chuan, Jojo Cence, stef_dit_patoc