How do I Make a Ford Truck Faster?
by Richard Rowe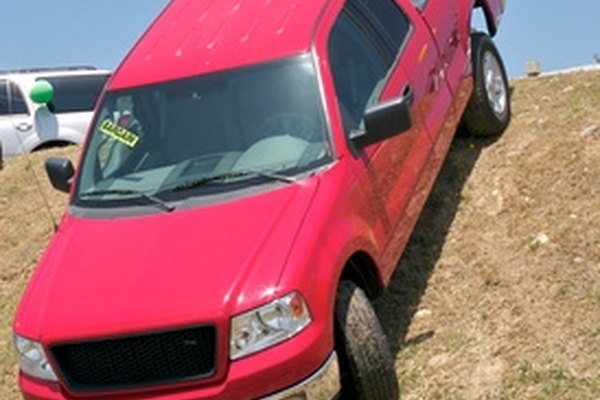 There are all kinds of ways to interpret the concept of making a vehicle "faster." "Faster" can mean absolute straight-line speed (as in land speed racing), acceleration through the quarter mile, or the ability to maintain a high average speed through all conditions (as in road course, autocross and off-road racing). The best approach for most will be to address the Ford truck's inherent shortcomings in a systemic way to increase the performance envelope through acceleration, braking and handling alike.
Upgrading Performance
Install a turbo or supercharger. Ford trucks have for decades come standard or optional with some of the company's most popular engines, meaning there's no shortage of selection for performance parts. For the last three decades, Ford has used three basic types of V8 for their trucks: Windsor V8 (including the 302 and 351W), the 460 big block and iron-block "mod" (modular) V8 introduced in 1995. For the first first two, you can use any aftermarket supercharger or turbo kit you like. Such kits are manufactured by many companies including Ford Motorsport, Paxton, Garret, Holley/Weiand Vortech and Edelbrock. Most mod motor trucks can use kits designed for the same year Mustang, but those with the 5.7L can utilize the entire intake/supercharger/computer/intercooler setup from a 2001 Mustang Cobra R.
Ditch the front suspension. If you've got anything but a double A-arm front suspension, get rid of it and install one from a second generation Mustang. Ford's truck suspensions (in particular the long-travel double I-beam suspensions used on most older full-sized trucks) are generally optimized for durability and off-road prowess, often at the expense of on-road performance. Although designed for a much lighter vehicle, the Mustang II suspension is plenty strong enough for anything short of an F250 and will offer far more performance in a lighter package.
Replace the rear axle. Almost all Ford trucks since Henry's day have come with a solid rear axle; good for simplicity and load carrying but bad for performance and ride. Ford went on something of an independent rear suspension (IRS) binge in the late 1980s and early 1990s, making these setups fairly cheap and easy to come by. Some IRS-equipped cars include: 1989-1997 Thunderbird Super Coupe, 1992-1997 Thunderbird V-8 (only those with rear disc brakes), 1992-1997 Lincoln Mark VIII, 1989-1992 Mercury Cougar XR-7 with the Supercharged V-6 and 1993-1997 Mercury Cougar V-8 with rear disc brakes. The 8.8 inch center-sections used with these rear ends are fairly strong from the factory, especially when treated to aftermarket parts.
Install a better brake system. If your IRS system didn't come with disc brakes (and many did), then rectify the problem and install a set of stock 1992-1997 Thunderbird V-8 discs. If you're taking your truck racing, then replace the front discs with a larger diameter set to help shed heat from stopping the heavy truck. Install a set of grippy aftermarket brake pads (like those from Hawk, Ford Motorsport and SBS) and complete your system upgrade by installing braided steel brake lines in place of the stock rubber units.
Photo Credits
photo_camera pickup truck image by Tonda from Fotolia.com