Difference Between 2005 & 2006 Mustangs
by Andy Joseph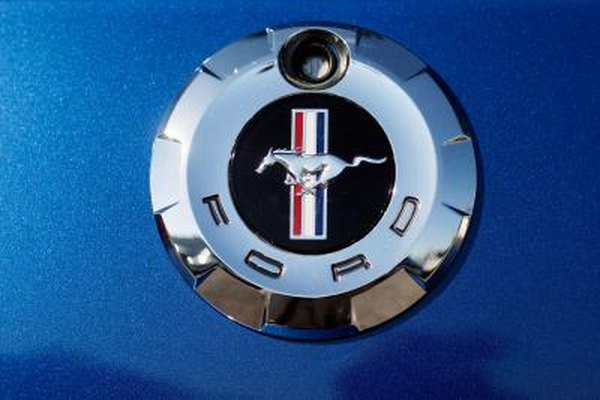 The 2005 and 2006 Ford Mustangs represent the first two model-year entries for the ninth generation of production of Ford's iconic "pony" vehicle. With coupe and convertible body styles to choose from, the trims were the base V6 and top-level GT, with the V6 Coupe being the least expensive version and the GT Premium Convertible being the most expensive. Overall, there were incredibly few changes between the '05 and '06 Mustangs.
Engines, Transmissions and Trims
The V6 versions of the 2005 and 2006 Mustangs have a 4.0-liter, 210-horsepower V6 engine that produces 240 pound-feet of torque. The GTs have 4.6-liter, 300-horsepower V8 engine with 300 pound-feet of torque. The standard transmission is a five-speed automatic with overdrive, although some can be spotted with the optional five-speed manual. The 2005 Mustang's trims were the V6 Deluxe, V6 Premium, GT Deluxe and GT Premium--each available as a coupe and convertible. For the 2006 model year, Ford added the V6 Standard as the base trims, thus pushing the V6 Deluxe up a notch.
Performance
The V6 Standard entries of the 2005 and 2006 Mustangs have better fuel economy than the GT lineup. They get up to 19 miles per gallon for city driving and 25 to 28 mpg for highway driving compared with the GT's 17 to 18 mpg for city driving and 23 to 25 mpg for highway driving. The GT, however, has better acceleration. It can go from 0 to 60 mph in about five seconds, while the V6 Mustangs can cover the same distance in about 6.8 seconds.
Interior
The standard safety features of the 2005 and 2006 Mustangs include power/child safety door locks, driver and passenger airbags, and vehicle anti-theft systems. The GT trims also have anti-lock braking system and traction control. Cruise control, steering wheel-mounted controls and AM/FM/CD stereo system are some of the standard interior features of the 2005 and 2006 Mustang entries, and the vehicle share the same interior dimensions.
Exterior
With a curb weight range of 3,300 to 3,500 pounds according to transmission type, the exterior dimensions of the 2005 and 2006 Mustangs are 188 inches in length, 74 inches in width and 55 inches in height, with a wheelbase of 107 inches. The V6 Mustangs have 16-inch alloy wheels, while that of the GTs are 17 inches. For the 2006 model year, Ford added three colors: Vista Blue Clearcoat Metallic and Tungsten Grey Clearcoat Metallic.
Price Range
The manufacturer's suggested retail price range of the 2005 Ford Mustang was $19,215 to $30,745, while that of the 2006 Ford Mustang was $19,215 to $31,145. As of 2010, Kelley Blue Book estimates the price value range of the 2005 Mustang at around $11,000 to $17,000; that of the 2006 Mustang is around $13,000 to $19,000.
References
Photo Credits
photo_camera Joe Raedle/Getty Images News/Getty Images