How to Debaffle a Suzuki C50
by Chris Gilliland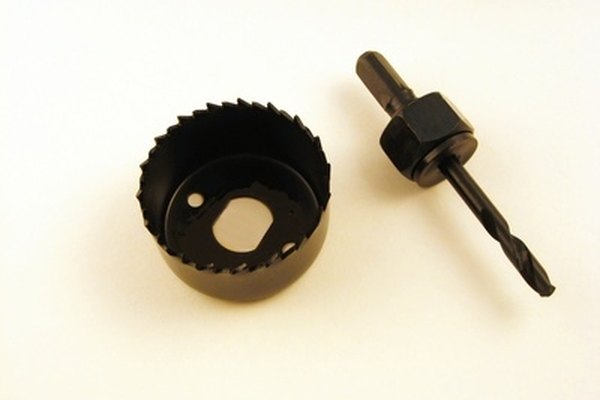 To a motorcyclist, a deep, powerful exhaust note is a highly prized audible sensation, exuding a roar of raw power from within the motor. Unfortunately, the stock exhaust systems fitted on today's motorcycles are restricted by emissions regulations, masking the roar of the motor behind a noise-reducing baffle. However, Suzuki C50 riders can eliminate this baffle with basic tools, drastically improving the motorcycle's sound without the need to purchase an expensive aftermarket exhaust setup. However, it should be noted that performing this modification will void your motorcycle's warranty and may also violate local traffic codes.
Prepare the hole saws. Place the 3-inch hole saw onto the arbor. Slide the 1.5-inch hole saw onto the arbor, centering it directly in the middle of the 3-inch hole saw. Lock the holes saws in place with the arbor's lock screw and insert the complete assembly into an electric drill.
Slide the 1.5-inch hole saw over the first muffler's outlet pipe. Cut through the muffler's end plate, starting the drill at a low speed to prevent the hole saws from slipping off of the muffler. Increase the drill speed gradually until the hole saw has cut completely through the end plate.
Remove the end plate from the muffler, using a magnetic pickup tool to pull out the end plate.
Insert a broomstick into the muffler's outlet pipe. Work the broomstick up and down, left and right, and in a circular motion. Use slow, deliberate movements to weaken the internal welds that secure the baffle to the muffler. Continue until the baffle and outlet pipe feel loose.
Grasp the end of the outlet pipe with vise-grip pliers. Twist the outlet pipe from side to side until it can be pulled completely out of the muffler.
Repeat the process on the remaining muffler. Start the motorcycle and enjoy the new sound of your Suzuki C50.
Warnings
close Use only Bi-metal hole saws. Hole saws intended for wood will not cut into the muffler.
close Wear protective eyewear and gloves while cutting into the muffler. Metal shards may be flung outward, resulting in serious eye injuries.
More Articles
Photo Credits
photo_camera circular saw image by Albert Lozano from Fotolia.com