How to Customize a Dodge Challenger
by William Zane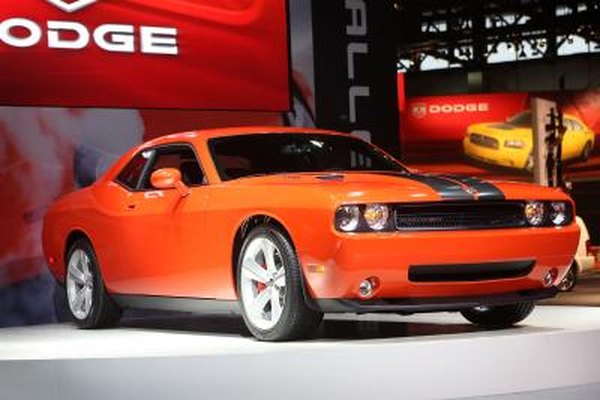 Whether it's in V6 or V8 form, the new Dodge Challenger is a potent combination of American horsepower and retro muscle car styling. It's also a terrific basis for a custom car. An owner can go about modifying his Challenger with some general suggestions offered.
1
Replace the original suspension with lower springs and performance shocks. Like most cars, when the Challenger leaves the factory, the ride height is a little on the high side. Eibach (makes a good quality set of lowering springs that can be matched to Koni shocks for a dramatic improvement in handling and appearance.
2
Upgrade the brakes with slotted, cross-drilled rotors and performance oriented brake pads available from the New Challenger Store. Better brakes will ensure that the performance of your tuned Challenger stays balanced.
3
Increase the horsepower of the motor. Whether it's in 6.1-liter SRT V8, 5.7 liter or 3.5-liter V6 guise, more power is always a good idea. Start by replacing the restrictive stock air intake with a more free-flowing cold air intake for an instant bump in power. Have your Challenger's ECU (electronic control unit) reprogrammed by the New Challenger Store. When you send them your computer, they reprogram it to make the motor produce more power and send it back to you. Next, replace the stock exhaust with a larger diameter one that replaces the exhaust system from the catalytic converter back to remain emissions legal but add more power. Headers are also available that can replace the original and restrictive manifolds.
4
Upgrade the wheels and tires. The Tire Rack has a large selection of larger diameter alloy wheels that will help your Challenger stand out from the crowd. Larger diameter, wider wheels will allow you to install lower profile wider tires for a better appearance and better handling.
5
Modify the exterior with stainless steel accents from the New Challenger Store. There are stainless steel bumper inserts, headlight surrounds and taillight surrounds that will sharpen up the exterior aesthetics of your Challenger. There is also an array of stainless steel grills available for your Dodge.
6
Upgrade the interior. The New Challenger Store offers an assortment of stainless steel interior accessories, including new surrounds for the headlight switch and the trim around the A/C vents. Stainless steel door trim with Challenger emblazoned on them is another sharp-looking upgrade. Plush floor mats are also a great way to make your Challenger's interior a more inviting place.
References
More Articles
Photo Credits
photo_camera Scott Olson/Getty Images News/Getty Images