Boats to Sail Around the World
by Nicole Montana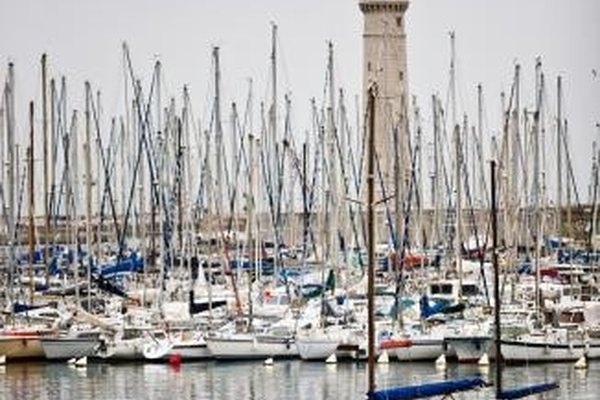 As long as 50,000 years ago, humans ventured from the coastlines. Whether out of necessity or curiosity, these early mariners took to the sea and set out for unseen destinations in primitive watercraft. It wasn't until 1519 that Ferdinand Magellan began the first recorded circumnavigation of the globe. For those who dream of sailing around the world, the oceans provide a wealth of adventures and lessons. Despite modern technology, the open seas can still present considerable challenges to the most experienced sailor. The right sailboat can factor heavily in the success of an ocean voyage.
Length
The length of a sailboat is an important factor in blue-water sailing. Sailboats can range anywhere from seven to 70 feet in length. A sailboat between 35 to 40 feet from bow to stern is recommended for one or two people who wish to sail around the world. While sailing yachts up to 45 feet may also work for two people, one person must be able to sail it alone in case the other person becomes ill or otherwise incapacitated. Longer boats require a larger crew. It is also important to remember that mooring costs are calculated by the length of the boat.
Types
Sailing cruisers and multi-hull catamarans are two options to consider. There are many different brands to choose from. Mono-hull sailing cruisers are the most common sailboat for offshore voyages; however, multi-hull catamarans have been increasing in popularity in warm-water regions. They can offer greater stability, as well as larger living quarters and deck space. Head seas may give these boats trouble offshore though, and many marinas are not equipped for their size, especially at the beam (width of the boat). Also, avoid sailboats built for speed and racing that are typically lighter than most blue-water sailboats and are less sturdy in high seas.
Characteristics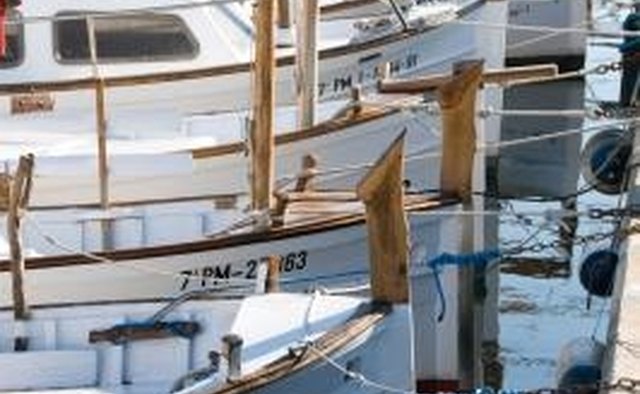 There are many characteristics of a seaworthy vessel to look for, whether buying new or used. Boats are made of either fiberglass, aluminum, steel or wood, or some combination of these materials. While wood is considered traditional, most wooden boats require costly repairs and maintenance. Wooden boats often are very hard to insure for offshore sailing. Fiberglass, aluminum and steel boats all offer their own advantages and disadvantages to long-distance sailing, and should be thoroughly researched before buying. Determine which underbody is best by researching keel types as well. Some other aspects to take into account are the boat's sails; the engine and fuel tanks; radio, radar and wind instruments; pump systems; safety features and equipments; deck space; living quarters; galley and head (marine toilet) equipment; and storage space.
Things to Know
Boating safety courses are required by almost all states and must be completed to obtain a boating license. Proof of course completion should be stowed on board for foreign ports that may require it. Before entering any foreign port you should check with local government officials; do not rely solely on websites, as they may not be updated regularly. Make sure your boat is registered with the U.S. Coast Guard as well. If something should happen to a sailing yacht's radio or navigational systems, an understanding of the basics is vital. Nautical charts are as important to a sailor as a sail is to a boat. Knowledge of the major ocean currents and wind patterns is crucial as well. Fair winds can provide extra speed to a ride, but getting stuck in the erratic Pacific doldrums can significantly impact any trip. Although it may seem unnecessary today, also knowing the constellations and their positions in the night skies never hurt any sailor. Plotting out the best time of year to reach a certain area increases the chances of reaping the benefits of favorable weather conditions. Weather patterns should be generally understood, and because wind propels the sailboat, knowing what to expect can make a voyage go smoother. The relationship between wind speed and water surface conditions can be calculated by knowing and using the Beaufort Scale.
Warnings
Occurrences of piracy on the open water are prevalent in certain parts of the world. Taking precautionary measures to ensure personal safety is highly recommended. It is also worthwhile to know basic maritime law and individual rights at sea. Carefully prepare and leave a detailed float plan of your course and destination with friends or family in case of emergencies. The U.S. Coast Guard offers its official version at Floatplancentral.org.
Photo Credits
photo_camera Jupiterimages/Photos.com/Getty Images