How to Apply for a Truck DOT Number
by Dawn Marcotte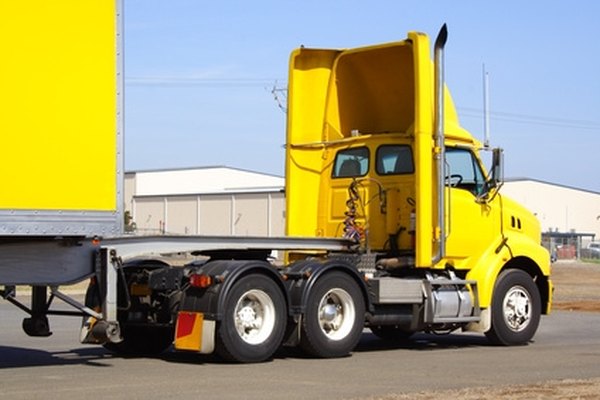 U.S Department of Transportation (DOT) numbers are required for commercial vehicles that transport people or cargo. Additional safety permits may be required for hazardous materials. This number is used to collect and monitor safety information for specific drivers. Each DOT number is unique to the vehicle. New applicants are required to participate in an 18-month safety program before being issued a permanent DOT number. Some states require all commercial motor vehicles to have a DOT number regardless of their use. The Federal Motor Carrier Safety Administration has a website with instructions and helpful tips on how to apply for a DOT number.
Getting a USDOT Number
Complete the registration guide questionnaire at fmcsa.dot.gov (see Resources for a link) to determine what specific forms you need to be complete. The questionnaire asks about commercial vehicle type, hazardous material, transporting across state lines, passenger vs. cargo and other business-specific questions. The tool lists the forms that will you need to complete as determined by your answers on the questionnaire. Print the final page.
Complete the MCS-150 form to register for a USDOT number, and fill out any additional forms required as determined in Step 1. The fee is $300 per authority required. Examples of authorities that may be required in addition to the USDOT number are hazardous material authority or passenger authority. The form can be completed online, or printable forms are available. Mail printable forms to: Federal Motor Carrier Safety Administration, Attention: USDOT Number Application, 1200 New Jersey Ave. SE, Washington, DC 20590
Expect a letter from the Federal Motor Carrier Safety Administration to be mailed to you confirming your USDOT temporary number and outlining the safety program that will be followed for the first 18 months.
Expect a state or federal auditor to contact you within six months and set up an appointment for a safety audit. Once the audit is complete and the 18-month probation period has been successfully completed, a permanent USDOT number will be issued.
Tip
check Register online if possible. Mailed registrations may take four to six weeks to process. Become familiar with the FMSCA regulations as violations of these regulations may result in the loss of the DOT number.
References
More Articles
Photo Credits
photo_camera semi truck image by max blain from Fotolia.com