1968 Chevrolet Corvette Facts
by Michael Bailey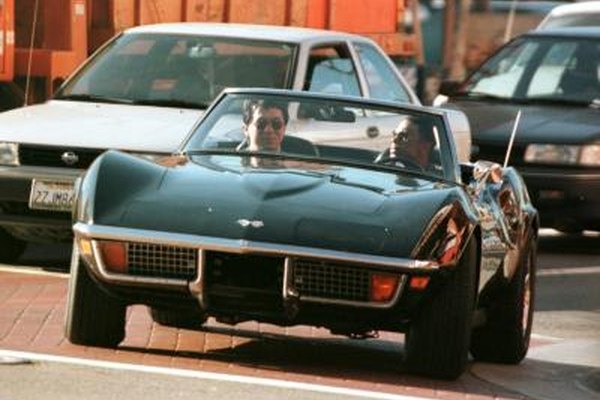 After a rocky start in 1953, the Corvette began to build a following from 1955 on, thanks to the new small-block Chevrolet engine introduced that year. A fresh new style in 1963 and an emphasis on high performance drove market growth through 1967, when Larry Shinoda's Mako Shark design concept stunned crowds on the tour circuit. GM was paying attention, and the radically redesigned 1968 Corvette brought the look of the Mako Shark to the streets.
Party Platform
The 1968 Corvette used a space-frame chassis made of box-section steel, except the portion in front of the cabin, which was made of girder-section steel. The body mounted separately to it at eight different points. The car had a 98-inch wheelbase. The four-wheel independent suspension used a double wishbone design in front. The rear suspension was a three-link, chassis-mounted axle with a semi-elliptical, transverse leaf spring. Universal joints were featured at both ends of the rear axle shafts, which maintained the wheel angle relative to the road during suspension travel. The Corvette's shipping weight of 3,065 pounds was remarkably light for a full-framed, V-8 American car. Power steering and power front disc brakes were optional.
The Mouse and The Rat
The Corvette offered a choice of V-8s: a 327-cubic-inch small-block or a 427 big-block. The standard engine was the 327 Turbo-Fire with 300 horsepower at 5,000 rpm and 360 foot-pounds of torque at 3,800 rpm. The optional 327 featured an 11-to-1 compression ratio. A high-performance hydraulic cam increased power output to 350 horsepower at 5,800 rpm and 360 foot-pounds of torque at 3,600 rpm. Electronic ignition was an option for all engines except the base 327. The 427 Turbo-Jet came in three flavors. The base version produced 390 horsepower at 5,400 rpm and 460 foot-pounds of torque at 3,600 rpm. The next level of performance for the 427 featured three two-barrel carburetors and a high-performance hydraulic cam, delivering 400 horsepower at 5,400 rpm and 460 foot-pounds of torque at 3,600 rpm. The top-shelf Turbo-Jet 427 had a Special Performance mechanical roller cam and lifters, three two-barrel carburetors and an 11-to-1 compression ratio. Aluminum cylinder heads were available for the Special Performance engine. With 435 horsepower at 5,800 rpm and 460 foot-pounds of torque at 4,000 rpm, the prospect of staging up next to a Special Performance Corvette created plenty of anxiety among competitors at the local dragstrip. The base 327 came standard with a three-speed manual transmission. Optional transmission choices for the base 327 consisted of the four-speed manual Muncie or the Turbo Hydramatic 350 three-speed automatic. The optional 327 was only available with the four-speed manual. The base four-speed had a 2.54-to-1 low gear ratio, and the optional Special four-speed had a 2.20 low gear. A Positraction limited-slip differential was optional. The two hydraulic-cammed 427 engines offered the same four-speed choices as the optional 327, along with an optional Turbo-Hyrdamatic 400 three-speed automatic. The Special Performance 427 only came with the Special four-speed manual with 2.20-to-1 low gear ratio.
Tripping the Lights in Plastic
The body of the 1968 Corvette was made from a fiberglass cabin shell, encapsulating a box-section steel frame that defined the passenger compartment. Chevrolet offered a hardtop coupe and a convertible version. A hard-shell removable top could be specified in place of the folding vinyl convertible top. The hardtop roof featured removable "T-top" ports over the driver and passenger seats to create a convertible effect. The engine compartment was vented through louvers behind the front wheels. Corvettes with the 427 engine were treated to a special, vented and skirted hood treatment. Paint was available in 10 colors. The interior featured thin-shell, contoured bucket seats. The Corvette was designed around the European Grand Touring class, which meant a two-place, high-performance sports car with enough luggage space for road touring. GM designers provided a three-section stowage compartment behind the seats and generous trunk space for such a short wheelbase. A floor-shift center console, tachometer and full instrumentation were all standard. The seats could be ordered in eight colors of vinyl, or Corvette buyers could choose five colors of leather. Optional equipment for the body and interior included a luggage rack, a ski rack, tilt steering column, air conditioning, bright wheel covers, an emergency road kit, power steering, portable spotlight, premium sound system and electric windows.
Both Show and Go
In the 2012 Hemmings Muscle Machines Pure Stock Shootout, a stock L89 1968 Corvette with aluminum heads turned in a quarter-mile pass of 11.606 seconds at 119.60 miles per hour. This kind of world-class performance by a bone-stock production car means an extra punch in the wallet when it comes to buying an L89 (or any other 427) instead of the standard 327-equipped 1968 Corvette. The National Auto Dealers Association lists a high retail value of $61,445, on its NADAguides.com website, for a standard 327-equipped convertible with a four-speed and factory air conditioning, in excellent condition. The same car is estimated at $104,120 when equipped with the L89 engine, a premium of 59 percent for the L89 engine alone.
Photo Credits
photo_camera Getty Images/Hulton Archive/Getty Images