Which Are the Best Tires for Snow and Ice?
by Linda Woolhether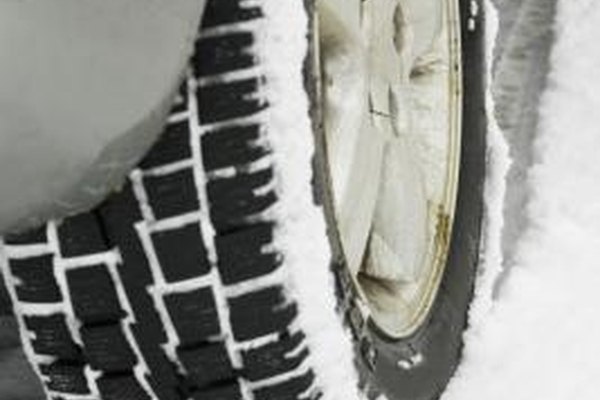 Driving in winter under adverse conditions can be hazardous if you are not prepared for the elements. Specialized equipment designed for winter driving is a necessity in some regions of the country. Tires made specifically for driving on snow or ice should be installed on all types of vehicles. The best tires will provide the proper grip under all road and weather conditions. All-season tires do not perform optimally at temperatures below freezing.
Michelin Latitude X-Ice
Michelin Latitude X-Ice tires are recommended for sport utility vehicles, light-duty pickups and family vans. These tires are designed to provide extra traction and better handling on both wet and dry roads. They feature an advanced silica-based winter tread compound that maintains its flexibility, even at extremely low temperatures. This helps provide extra grip on ice and snow covered roads. As of 2010, these tires range in price from about $127 to about $250 for each tire, depending on size.
Bridgestone Winter Dueler DM-Z2
The Bridgestone Winter Dueler DM-Z2 is recommended for sport utility vehicles and pickups. This tire is designed to help the vehicle maintain good traction on wet or snowy roads. The compound used to make this tire is glass-fiber reinforced to increase vehicle stability on dry or wet roads. This feature also helps reduce slipping on icy surfaces. It works much like a studded tire, but without studs. The per-tire price is based on size, but is in the $200 range as of 2010.
General Altimax Arctic
The General Altimax Arctic tire features all-weather dual tread and is studdable for extra traction. It does not come studded, but studs can be added. This tire is recommended for passenger cars, coupes and sedans. The directional pattern of the tire has a center rib for added stability under adverse winter driving conditions. The price range for these tires as of 2010 is $99 to $199, depending on size.
Nokian Hakkapeliitta
The Nokian Hakkapeliitta LT is recommended for light pickups and sport utility vehicles. Its arrowhead tread pattern provides extra traction on water, snow, slush or ice. It features a 12-row stud system for extra grip on polished ice. Unlike some studded tires, this one gives a smoother ride. The Nokian Hakkapeliitta SUV is similar to the LT with its durability in off-road situations and under extreme conditions. It is not a studded tire, but is studdable. Prices as of 2010, depending on size, range from $169 to $219 per tire.
Pirelli Scorpion
Pirelli Scorpion Snow and Ice tires are recommended for sport utility and recreational vehicles. These tires feature a longitudinal groove design that helps direct water and slush away from the tire's contact patch, thus helping prevent hydroplaning on wet surfaces. The tread block is designed for added traction on fresh snow. Depending on size, these snow tires range in price from $146 up to $460 as of 2010.
Photo Credits
photo_camera Jupiterimages/Comstock/Getty Images