The Best Tires for Cars
by Contributing Writer
; Updated June 12, 2017
In order to avoid flats and blow outs when Truck car it is important to remember that the air as well as the tire load written on the side of the tire determine the weight the vehicle can carry. Additionally, the size of a tire also makes a difference in the vehicle's Truck car capacity. There are some Truck car tires that are specially designed for wet conditions and are ideal for Truck car boats. Other tires are designed for very hot climates and there are those designed for the snow. Knowing the weather conditions as well as the load of what is being towed is the first step into deciding which tire is right for the job.
Under The Hood:
The Best Tires for a Ford Expedition
General Grabber HTS
According to ConsumerSearch.com, Grabbers are the most popular replacement tire for Expeditions. These all-season tires are rated to handle the truck's weight, and are engineered with it in mind, with thick sidewalls and heavy-duty construction. Being an all-season tire, the Grabber is designed primarily for use on the road, and does well in snow and rain. These tires offer great value for the money, but don't kid yourself: no all-season tire is going to give you the off-road performance of more purpose-oriented, off-road rubber. If you have more to spend and want a bit more off-road competence, take a look at the Michelin LTX M/S.
Pirelli Scorpion ATR
If you spend 90 percent of your time on the highway but need a tire that will take you up rutted driveways and over gravel roads, then consider an all-terrain tire such as the Scorpion ATR. The Scorpion has a more aggressive tread compound and flexible rubber compound that make it far better suited to off-roading than an all-season. However, that flexible and aggressive tread (combined with its size) make for a high rolling resistance, which hurts fuel economy. Still, it's a great tire for the money, and a very popular upgrade over the stock Firestones or Conti-Tracs.
Firestone Destination M/T
Considering that it costs about $100 less than other dedicated mud tires, the Destination is a very competent performer. Although they're noisy, rough and don't wear very well, the Destinations have a very aggressive tread pattern for traction in mud and over rock, and are studdable for winter driving. Better yet, these tires come in sizes to fit your Expedition without resorting to a lift kit and offer 90 percent of the performance of larger tires without the on-road handling compromises that come with them.
Nitto Mud Grappler
You probably bought the Expedition specifically because of its impressive stature so why not use a tire to match? Thirty-five to 36 inches is the limit for a stock suspension, but there's just something about 40-inchers that looks right on a truck this big. One of the best on the market today is the Nitto Mud Grappler, which strongly resembles an old-school Super Swamper but performs better off-road, wears better on pavement and has a more advanced tread compound. Loud and obnoxious on the pavement, these tires will never let you forget they're there, but their off-road traction over rocks and through sand and mud is outstanding. If you're committed enough that you're willing to install a 5-inch lift to fit them, then you probably don't care that 40-inch tires will increase the likelihood of a rollover, but it's worth remembering anyway.
Michelin LTX M/S
Michelin's LTX M/S towing tires have a contact patch shape that distributes acceleration and braking forces, making them wear evenly and last longer. The tires also have straight sipes, giving them optimal grip for driving in the snow and most any kind of weather condition. The LTX M/S loads D and E have an extra steel belt that provides strength and durability for loads of up to 13,500 pounds. When purchased new, the warranty on the tires covers workmanship and materials defects for six years or the life of the original tread, whichever occurs first.
Firestone Transforce A/T
The Firestone Transforce A/T tires are designed for any multipurpose 4 x 4 vehicle wanting to combine good traction on the freeway and strength for towing on different terrains and weather conditions. The tires provide hydroplaning resistance with their wide circumferential grooves and snow traction with their sipes and lateral grooves designed to bite the edges of the road. The ride quality of the Transforce A/T is enhanced by a polyester cord within the tire, and the structure is kept optimal by a set of twin steel belts that are reinforced with spiral-wrapped nylon. The tires also feature a long link carbon tread compound that is used to blend poor weather traction with dry-road handling.
Bridgestone Dueler A/T Revo
Ideal for towing boats, the Bridgestone Dueler A/T Revo all season tires come with a tread life warranty of 50,000 miles. The tires have an "S" standard load rating, which give them a speed index of up to 112 mph. The tire's continuous nylon spiral wrap helps maintain it's uniformity and shape. The Dueler A/T Revo with UNI-T AQ II is equipped with an aggressive tread that offers a powerful grip, without compromising a smooth ride on the highway. The tires have an anti-hardening resin and link stabilizing agent that help counteract the effects of heat, maintaining the tires flexible as they wear.
Michelin LTX M/S Tires
The Michelin LTX M/S tire is a light truck tire that distributes weight evenly to help reduce the wear on the tire tread. The LTX tire offers straight grooves to help the tire grip the road in all weather conditions. This tire features an extra steel belt that helps make the tire more durable and stronger under extreme weights. The LTX tire is one of Michelin's best-selling tires and the company's Web site states that it is a consumer favorite.
BF Goodrich All Terrain T/A KO Tires
The BF Goodrich All Terrain T/A KO tire offers wider grooves for better traction in all types of weather. This tire features a three-ply guard to help protect against cuts and punctures. The All Terrain T/A KO tire distributes weight evenly to make the tire last longer, and the warranty for this tire is 90,000 miles. This tire also features two full-width steel belts and a rim protector.
Goodyear Wrangler MTR With Kevlar Tires
The Goodyear Wrangler MTR with Kevlar tire was originally made for off-road vehicles, but is now available for pavement driving also. The features of the Goodyear Wrangler MTR with Kevlar include more puncture resistance with the Kevlar-reinforced sidewalls, and wraparound tread that helps improve traction in all terrains and weather conditions. The silica rubber used in the tire helps with off-road and wet-road traction. Kevlar, a product used in making bulletproof vests, is said to be five times stronger than steel, making this tire stronger than tires without this type of reinforcement.
Goodyear Wrangler AT/S Tires
The Goodyear Wrangler AT/S tire is a light-truck tire for on- and off-road terrain. Made for two- and four-wheel-drive trucks and full-size SUVs. this tire features traction in snow, rain and dry weather conditions. The Goodyear Wrangler AT/S tire, designed to be safe and sturdy for off-road driving, features puncture-resistant sidewalls and a six-year warranty.
The Best Tires for a Nissan Xterrra
Stock Tire
The stock replacement tires for a US-market Xterra are the BF Goodrich Rugged Trail T/A. This is a combination highway/all-season tire and is a little more geared toward highway use than its name might suggest. It's not the cheapest tire in Goodrich's line, but is a little more adept at off-roading than the lesser Long Trail T/A. If you're looking for versatility, long life, good looks and decent off-road ability, then you might do best to stick with the Rugged Trail.
Highway Tires
There are a number of suitable alternatives to the Rugged Trail T/A. The BF Goodrich Long Trail Touring tire is similar to the Long Trail in design and price, but it is a little more suited to on-road grip, wet-weather performance and quiet operation.
If you're looking to save some money and don't take your truck-let off road that often, then a great tire in the bang-for-the-buck category is the Kuhmo Road Venture KL51. It's one of the highest-rated economy car tires in this segment, and a popular choice. On the other end of the spectrum, the Goodyear Fortera tripleTred is a good-looking and fine-handling tire, and is the rubber of choice for those who are willing to pay for top on-road performance in the dry and wet.
The General Grabber Ultra-high Performance sport tire is a great compromise in price and performance. It costs less than the stock BF Goodrich tires, but looks and grips better. The only real drawback to this tire is that it depends on a softer rubber compound for grip and will wear out sooner.
Off-Road Tires
If it is your opinion that a truck should be capable of traveling off-road at will, then you may want to consider a suitable tire. The Firestone Destination A/T offers excellent on-road wear and quiet operation, as well as good off-road performance. Factor in its reasonable cost, and you can see why it's one of the most popular off-road tires on the market today.
Of course, if you really want to conquer the elements then take a good, hard look at the BF Goodrich All-Terrain T/A KO. This tire offers rugged good looks, excellent off-road grip and decent on-road handling and noise level.
The Best Tires for Ford Escapes
Yokohama Parada Spec-X
The Yokohama Parada Spec-X is an all-weather sports performance tire, offering excellent traction regardless of the conditions. According to the Tire Rack annual customer re-purchase survey, the Parada ranks first with a value of 100 percent.
Goodyear Fortera SL Edition
The Goodyear Fortera SL Edition is a light truck tire, oriented to all-weather performance, specifically optimized for over-sized wheel combinations. According to the Tire Rack annual customer re-purchase survey, the Fortera ranks second with a value of 97 percent.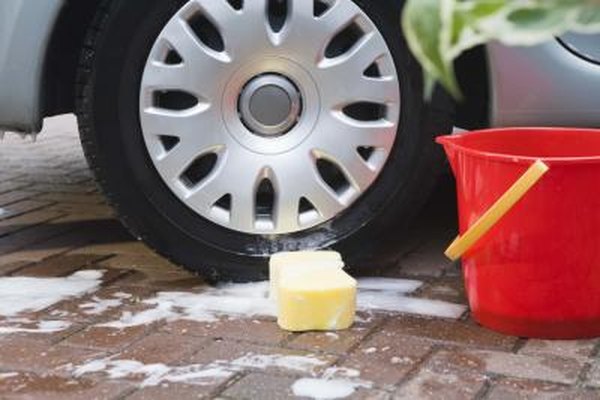 Dunlop Grandtrek ST 8000
The Dunlop Grandtrek ST 8000 is an entry/replacement tire constructed to produce all-weather performance. According to the Tire Rack annual customer re-purchase survey, the Grandtrek ranks third with a value of 93 percent.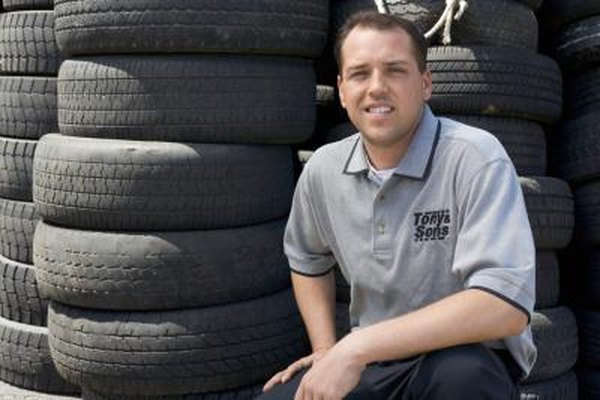 The Best Tires for a Chevy Silverado
General Grabber HTS
The General Grabber HTS is an all-season highway tire developed for trucks and SUVs. This tire features General Tire's patented eco-ride tread compound molded into the symmetric tread design to help improve fuel economy. There is a large contact patch and a stabilizing system of connecting bars that increase stability. Increased stability means that it is easier for the driver to brake, accelerate, and corner. There are also two internal steel belts to lengthen the life of the tire as well as an internal shock absorption system to lessen road vibrations. The channeled, symmetrical tread design allows the tires to maintain traction even in rain and light snow. This tire has been extensively tested and received an average score of 8.6 out of 10 with a customer rating average of 8.2.
General Grabber AT2
General Tire's Grabber AT2 is an on and off road all-terrain tire designed to provide the driver with added traction on any driving surface. Grabber tires have a chip and tear resistant tread compound molded into the tread blocks. The tire features a symmetric tread design of five rows of multi-traction edged independent tread blocks. Each of these block are molded to work with #13 metallic studs for use in snow and ice. The tire is reinforced with two steel belts on the inside on top of a cord internal body to ensure even wearing on the contact surface of the tire. The Grabber AT2 received an 8.4 test rating and an 8.4 out of 10 customer rating.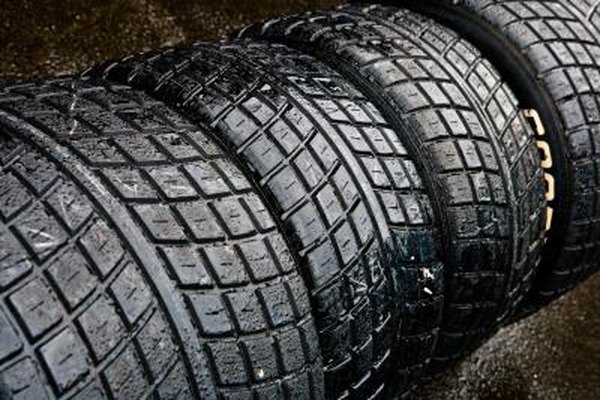 Michelin LTX M/S
The LTX M/S is an all-season truck tire, designed to be used in wet, dry, and light winter conditions. It is not a snow tire and does not meet snow traction requirements. It does deliver a smooth ride on surface streets and highways. The LTX M/S has a symmetrical tread design with independent tread blocks and offset circumferential grooves which help the tires to keep traction no matter the road conditions. An all-season tread compound is molded into the tread grooves to assist in improving the longevity of the tires. This tire received a test score of 8.3 out of 10 and a customer review rating of 8.6.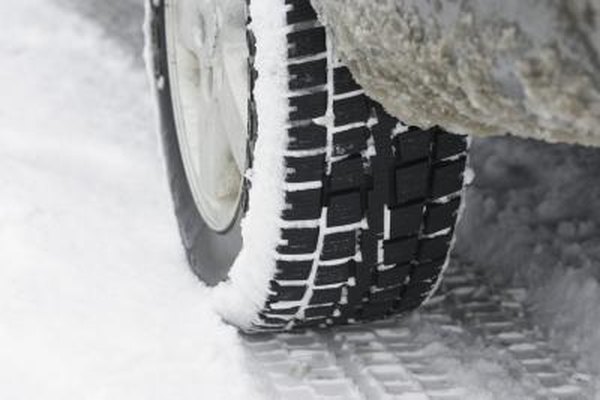 The Best Tires for the Toyota Tundra
Firestone Destination
Firestone's P275/65R18 Firestone Destination A/T tires are designed to be a versatile tire for many different conditions. While they're an all-terrain tire, they're also designed to offer a smooth ride. The tires are designed with a noise-canceling feature for that quieter ride. The tires are designed for wet conditions and snow, yet remain quiet on city streets. The tires come with 50,000 mile warranty--standard on most domestic tires.
Goodyear Wrangler SilentArmor
An added layer of Kevlar is designed to keep the Goodyear Wrangler SilentArmor tire quiet on the road, while at the same time offering extra traction in the snow. An open tread is intended to make the tire perform well in off-road conditions. Of the tires available from Goodyear for the Tundra, this tire is rated a "10" for its performance in the snow, an "8" for quietness, and a "9" for wet traction. They come with a 50,000 mile warranty.
Bridgestone Dueler 695 A/T
This tire, like the others, is designed to give truck owners a flexible tire that works well on the snow and wet conditions, as well as providing a quiet ride. The tire's deep tread provides lots of traction on the snow. Bridgestone's designers have included technology that provides a quieter ride. The tires come with a 50,000 mile warranty.
The Best Tires for a Toyota Camry LE
Tires
The 2014 Camry LE came from the factory with Firestone Affinity Touring tires, which offered decent traction on smooth, dry roads, but moderate to utterly miserable performance in every other aspect. As of 2014, the best seller -- according to Tire Rack -- is the slightly more expensive Continental Purecontact with EcoPlus. This tire isn't just good for the Camry, or good for an economy enhancing tire -- it's currently one of the best all-season grand touring tires out there, period. The slightly cheaper Tokohama AVID Ascend comes in second place among touring tires, offering excellent performance on dry roads and good to acceptable performance everywhere else. The stock Firestones come in third among touring tires, likely because they're cheaper than the other two. Behind it are the General Atlimax RT43 and Michelin's Energy Saver A/S.
Camry drivers living in snowy and icy climates far and away prefer the superb Bridgestone Blizzak WS70, and the Dunlop Winter Max comes a close second. The Pirelli Scorpion has brand name appeal as a popular performance tire in this application. But, oddly, it doesn't offer much greater outright performance than Continental's similarly priced PureContact with EcoPlus-- which is almost certainly the best tire for this generation Camry.
Goodyear
"Goodyear RV tires are some of the best models available. The G670 RV tire is specially designed for class 'A' motor homes that can be fitted in any position," according to Inside Your RV website. The tread casing has exceptional durability, lending itself to extended fuel efficiency that causes less rubber-to-road surface friction and drag. A system of circumferential grooves allows for superior wet traction. Extra sipes and tread notches enhance the traction capabilities, and the improved high-tech interior belt design aids for a smooth and comfortable ride, says Inside Your RV.
Michelin
Inside Your RV says Michelin has " carved a niche" in the best RV tires catergory. Michelin designed and manufactured them with superior handling and riding comfort in mind, says Inside Your RV. It notes Michelin added a reinforced steep bead for added sidewall protection against punctures and damage. This allows for the casing to accept retreads. Special attention has been given to rib tread design that provides even tread wear. The tread pattern features lessens rolling resistance which provides better gas mileage.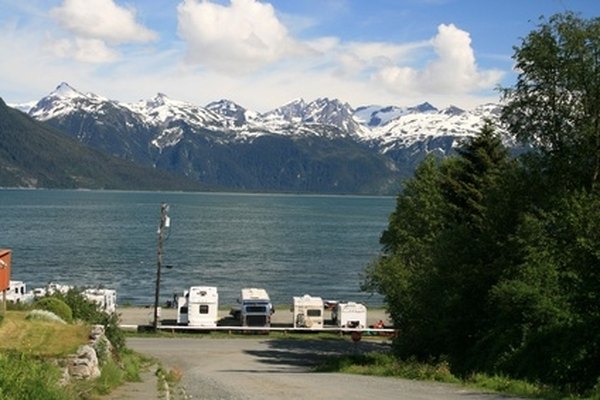 BFGoodrich
The BF Goodrich model tire, most popular with the small RV crowd, has a dual compound tread for increased grip and long-lasting tread wear. The tread design has noise suppressing qualities and the feel of the steering wheel has a "light" touch, denoting less tire-to-road resistance. A stabilized outside riding shoulder provides exceptional dry traction and control, while providing good wet and snow traction with full tread depth features. Two full-width steel belts make it sturdy for high speed and stable handling. Sideways flex allows for good cornering characteristics. One consumer reports 94,000 miles driven on his 2003 Ford F150 and plenty of tread left on his P275/60/17 tires.
Dunlop
The Dunlop Radial Rover has been awarded the Severe Service Emblem which means that it qualifies for use in severe winter conditions. Any tire that bears this symbol performs much better than its competitors (tires marked with only an M+S rating) in slush, ice or deep snow conditions. Equipped with a four-rib tread design, the Dunlop Rover has noteworthy on-and off-road capability. Deep tread grooves channel water away, resisting planing and skidding. The sidewall features have been stylishly enhanced with raised white lettering and a high serrated band.
All-Season Tires
All season tires are the most common tires for minivans and passenger cars. Despite their name, all-season tires perform poorly in tests involving ice and snow, and so would not be recommended for cars that are driven in extreme winter conditions. Drivers who experience extreme winter conditions should use all-season tires during the summer, spring, and fall, and use specialized winter tires for the winter months.
However, many all-season tires are the best value for wear, performance and ride quality. Consumer Search recommends Goodyear's Assurance Triple Tread tire as being the best all-season tire, "showing no significant weaknesses in any test." Other recommendations include the Hankook Optimo H727 for its overall performance and the Michelin HydroEdge for its longevity. All-season tires are the most economical option, ideal for everyday use with average amounts of driving. They also do very well on wet roads, and so are ideal for drivers who experience mild to moderate winter conditions.
High-Performance Tires
High-performance tires have gained popularity for their handling and heat-resistance qualities. High-performance tires have better grip, cornering abilities and braking abilities. Many high-performance tires don't have the longevity and value that all-season tires do, but are beneficial for drivers who have long highway trips in warm weather because of their heat resistance, and for drivers in severe winter conditions because of their superior grip.
Consumer Search recommends the Michelin Primacy MXV4 tire as the best performing high-performance tire. It is the most expensive of the high-performance tires available for minivans, but has the longest tread life and best grip in wet weather conditions. For dry grip, Consumer Search recommends the Michelin Pilot Exalto A/S for its braking abilities. According to Consumer Search, the best high-performance tire for severe winter conditions is the Continental ExtremeContact DWS because of its superior performance in icy and snowy conditions. High-performance tires are ideal for minivan drivers who travel on highways for long periods of time or who drive in extreme winter conditions. They are also an ideal winter counterpart to standard all-season tires.
Summer Tires
Summer tires are very high performance tires that are ideal for warm weather driving conditions. They do not have any ability to deal with snow or ice at all. Many drivers choose summer tires for their gripping abilities in both wet and dry conditions. Summer tires are mostly made for sports cars, but can be used on passenger cars and minivans in the right conditions.
Consumer Search recommends the Michelin Pilot Sport PS2 for its overall performance. The Dunlop Direzza SportZ1 Star Spec is recommended by Consumer Search as a cheaper alternative to the Michelin Pilot Sport PS2 tire. Summer tires are ideal for drivers in warm weather conditions who want more driving control and better performance.
The Best Tires for a Chevy Tracker
Kumho Solus KR21
Priced from $62, as of March 2010, Kumho's Solus serves as a great stock replacement tire for those that don't plan on doing any off-roading. The Solus provides good dry road traction, decent cornering stability and low noise. Wet traction leaves a little to be desired when compared to competitive offerings, such as the Dunlop Signature and General Altimax, but the Kumho's other fine highway manners earn it high marks. The only major drawback to this tire is wear, which is usually a result of under-inflation.
General Grabber A/T
At a paltry $80 a tire, why wouldn't you buy a Grabber? These tires are a perfect replacement for those worn all-seasons on your 4WD Tracker; off-road capability is very good for a tire in this price range, and on-road handling (in the dry and wet) is excellent for an off-road-oriented tire. The Grabber is often used as a stock replacement tire for 4WD Explorers and Excursions, and will lend some serious attitude to the Tracker's tiny frame.
Firestone Destination MT
The darling of reviewers and customizers alike, the $185 Firestone Destination rings in at a $100 discount relative to other all-terrain mud tires. The Destination is a bit noisy on the road, carries no tread wear warranty and you won't have a prayer of making them fit without at least a 3-inch lift, but they offer massive traction in the rough stuff. The Destination's over-the-sidewall lugs make it ideal for rock-crawling and mudding alike. If you care about noise and road manners, go for the cheaper Pirelli Scorpion ATRs, just don't expect them to deliver the kind of off-road performance that the Destinations will.
BF Goodrich Krawler MT
If you're the kind of person whose Tracker already has a small-block Chevy, an Atlas II transfer case, a set of Dana 60s and 35 feet of lift, then the Krawler is your tire. As the name implies, this ridiculously expensive tire ($560 apiece average price) will crawl up and down the walls of Hades, nevermind a few rocks. Of course, you don't really need a big engine to go rock-crawling; the tiny four-cylinder will work OK if you've got extremely low gears. However, it's guaranteed to be a dog on the freeway.
Mud Tires
If you're looking for a more mud-specialized tire, you might want to consider the similarly priced ($600 average) Crusher Mud Tire from Dick Cepek or the insane Gateway Tire Buckshot. Anything by Dick Cepek is bound to be quality, and the Buckshot is essentially a bias-ply tractor tire. Don't labor under the delusion that your stock Suzuki four-cylinder is going to drive either the Crusher or Buckshot; thick mud and huge tires like these take big power and a heavy foot.
Pirelli Scorpion ATR
According to ConsumerSearch.com, Pirelli Scorpion ATR tires are the best handling all-terrain tires when it comes to driving on roads. Once they leave the pavement, Pirelli Scorpion ATRs are perfectly capable of conquering mud, hills, gravel and dirt. However, intense off-roading, such as rock-crawling and mud-bogging (driving through deep pools of mud), is not recommended. As of 2009, each Pirelli Scorpion ATR tire costs approximately $125.
General Grabber HTS
According to ConsumerSearch.com, General Grabber HTS tires are not only some of the best tires for a small SUV but also are some of the most affordable at approximately $95 per tire, as of 2009. The all-season tires have excellent maneuverability and breaking capabilities, both on dry and wet roads. However, according to ConsumerSearch, General Grabber HTS tires are not well-suited for driving off-road, so if you are the adventurous type you may want to choose another model.
Firestone Destination M/T
If you plan on taking your small SUV through thick mud or over large, jagged boulders, Firestone Destination M/T tires are the tires for you. According to ConsumerSearch.com, while most serious off-roading tires are bulky and expensive, Firestone Destination M/Ts are compact and affordable at approximately $130 per tire as of 2009. While especially equipped to handle the most sharp and slippery obstacles, these tires also perform fairly well on paved roads.
Goodyear Fortera SilentArmor
According to ConsumerSearch.com, Goodyear Fortera SilentArmor tires--once leaders in the field of all-terrain tires--have lost ground in performance tests as of the late 2000s. Regardless, the tires are still some of the best for small SUVs, especially if you desire a comfortable and quiet ride. One big complaint, however--according to ConsumerSearch--is that the tires lose tread easily and perform poorly on snow and ice. As of 2009, the tires cost about $135 each.
Original Equipment Options
The Freestyle came with tires in either the 215/65-17 (17-inch diameter) or 225/60-18 (18-inch diameter) size. The original equipment for the 17-inch tire is the Continental ContiTouringContact CT95. The original equipment for the 18-inch tire is the Pirelli P6 Four Seasons. Drivers who prefer to keep using the factory-installed tire type can still purchase these tires.
17" Alternative Options
Recommended alternative options include Yokohama Avid TRZ, Michelin Primacy MXV4, and Goodyear Assurance TripleTred. These tires typically will provide a quieter ride and improved handling and wear over the original equipment. However, they may cost more than the OEM tires.
18" Alternative Options
Recommended alternative options include Michelin Primacy MXV4, Yokohama Avid H4S, and Goodyear Assurance TripleTred. These tires typically will provide a quieter ride and improved handling and wear over the original equipment. However, they may cost more than the OEM tires.
The Best Tires for a Lincoln Town Car
Rated #1 - Michelin Pilot Exalto A/S
The Michelin Pilot Exalto A/S is a reasonably priced all-season tire. The product is optimized for sedans, and its construction is oriented to middle-of-the-road performance allowing buyers to take advantage of good handling capabilities while offering a generally comfortable ride. Cost for the unit starts at $100 depending on reseller markup.
Rated #2 - Dunlop SP Sport Signature
The Dunlop's SP Sport Signature offers solid performance regardless of the environment and is a singularly technical product. This means that the buyer may have to give up some comfort in favor of performance. The tire's construction is biased toward hard driving, and offers a number of innovations that create good response regardless of the driving requirement. Cost for the unit typical starts at $90 depending on reseller markup.
Rated #3 - Bridgestone Potenza
Bridgestone's Potenza is oriented to the performance touring car market but the tire also fits nicely with the Lincoln. Its buyer ratings are good. Because of its construction, the tire might be a bit stiff for the more mature buyer, but if you want to add a bit of pop to your Town Car this is the way to do it. Cost for the unit typical starts at $110 depending on reseller markup.