Specifications for the 2003 Aerolite 24' Travel Trailers
by James Nalley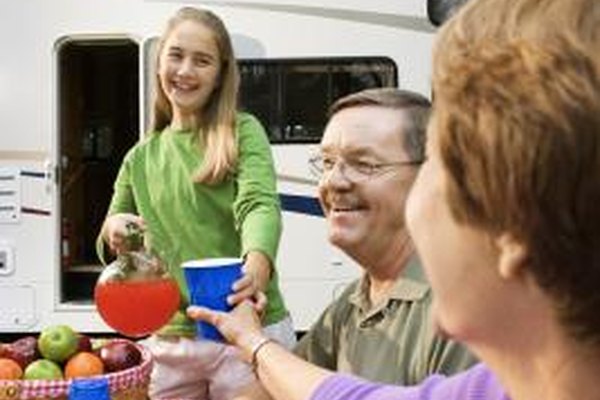 The 2003 Aerolite Travel Trailers were available in two model lines — 7-foot and 8-foot wide — with 14 different length sizes that ranged from 19 to 30 feet. The aluminum-framed, 7-foot-wide models were the industry's original ultralight trailer; there were two, 24-foot trailers available. Each offered space-saving designs that could sleep from two to four people with a wide array of interior and exterior options.
Dimensions and Capacities
The 2003 Aerolite Travel Trailers are available in two 24-foot models: the A23FB and the A23RDB. The A23RDB weighs 3,330 lbs. and includes a length of 23 feet 7 inches with a cargo capacity of 1,524 lbs. for a gross vehicle weight of 4,854 lbs. The A23FB weights 3,446 lbs. and includes a length of 23 feet 8 inches with a cargo capacity of up to 1,216 lbs. for a gross vehicle weight of 4,662 lbs. Both models include an exterior width of 7 feet 5 inches, a height of 9 feet 5 inches and a fresh water capacity of 30 gallons.
Standard Exterior Features
Both 2003 Aerolite 24-foot models are constructed of lightweight welded-aluminum with laminated fiberglass walls and corrosion-free underbellies as well as one-piece, seamless rubber roofs. Other exterior features include 14-inch tires, tandem axles with four-wheel electric brakes, rain gutters with corner downspouts, four-corner stabilizer jacks, and two, 20-pound propane bottles with corrosion-resistant covers. Each model also includes fresh water and waste water tanks mounted below the floor for extra interior space and the Stor-More feature, which is an exterior storage area for gear and equipment.
Standard Interior Features
Each of the 2003 Aerolite 24-foot models are available with a wide array of interior amenities such as a fully-equipped kitchen — with a single-door refrigerator, three-burner high-output cooking range, dinette table, acrylic sink, and Oak cabinet doors; a six-gallon water heater; and pre-wiring for cable television, stereo equipment and air-conditioning. The bathrooms include skylight roof vents, linoleum floors, fiberglass bathtubs with shower, a medicine cabinet and a television shelf. The A23FB model includes a queen bed that comfortably sleeps up to two people. The A23RDB model sleeps up to four people and includes a sofa bed with a choice of three different sleeping options: a double bed, a double bunk-bed or a single bunk placed over a double bed.
Options
A wide variety of optional interior features are available for both 2003 Aerolite 24-foot models that include a 13.5 SEER-rated air conditioner, a one-piece fiberlink bathtub, an entertainment system with CD player, a 6-cubic-foot double-door refrigerator, bedroom carpet, safety-glass windows, a water filter system and a 1,000-watt microwave oven. Optional exterior features include a television antenna, spare tire with cover, a retractable awning, and a Vitco grill and wash station with 15-foot hose for outdoor entertainment and cleanup.
Photo Credits
photo_camera Jupiterimages/Comstock/Getty Images