How to Replace the Soft Top With a Hard Top on a Jeep Wrangler
by Melissa Kelly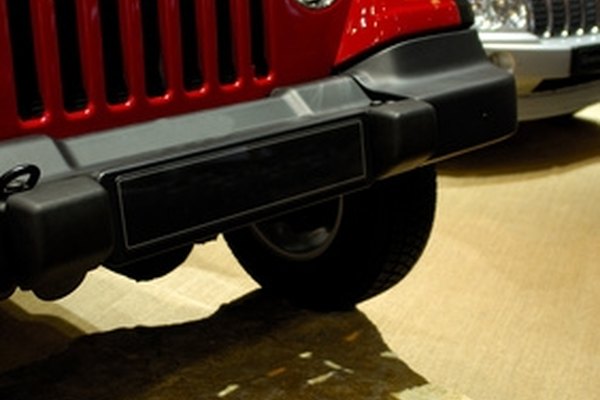 Jeep Wranglers feature interchangable tops, allowing motorists and their passengers to enjoy the benefits of soft or hard tops -- or none at all. Switching from a soft to a hard top offers a number of benefits, including better protection from weather elements, enhanced security and a quieter ride. Hard tops also provide additional features, such as overhead pickets, tinted glass, rear-window defroster and rear air vents. The installation process takes approximately two hours, and requires the help of an assistant for proper placement of the top.
Removing the Soft Top
Detach the snaps at the front corner of the convertible top.
Disconnect the upper frame by sliding it out of the bracket. Unsnap the fasteners.
Remove the door windows by lifting the window up until the attachment pins are clear of the door.
Unzip the front and rear side curtain zippers and unsnap the interior tab. Pull the bottom edges out of the channel. Slide the front edge of the side curtain down and remove it.
Pull the spreader bar down to release the tension.
Open the tailgate and unzip the top and side zippers on the rear curtains.
Push the bottom of the rear support bows forward about two inches out of the side rail notch.
Detach the soft top from the drip rails and from the retainer along the upper end of the windshield frame.
Fold the soft top back to the front support bow.
Slide the drip rail lock forward, and pull it off of the lock pin on the windshield frame. Slide the whole assembly to the rear so the bottom of the rear support bows move forward and fold under the bows and drip rails.
Slide the front support bow out of the side rail. Remove the convertible top assembly from the vehicle.
Installing Hard Top
Remove the molded seal behind each door on top of the belt rail. Open the tailgate and close the back window on the hard top.
Place the hard top on the Jeep's belt rail with the help of an assistant. Be careful not to damage the foam sealer used between the hard top and the body of the Jeep.
Align the holes on the top with the holes on the vehicle. Install the bolts and washers connecting the hardtop to the Jeep's body and tighten two turns.
Center the hard top onto the windshield's gasket so that the rubber flap hangs over the windshield's flange. Hook the windshield latches into the slots on the hard top.
Place the upper part of the doors onto the lower part of the doors and align the holes. Install the bolts and tighten each into the compression nuts to secure the door.
Adjust the top until all portions are aligned. Go back and fully tighten all bolts. Be careful not to over-tighten the bolts and strip the nuts.
References
More Articles