How to Replace a Goldwing Windshield
by Deb Katula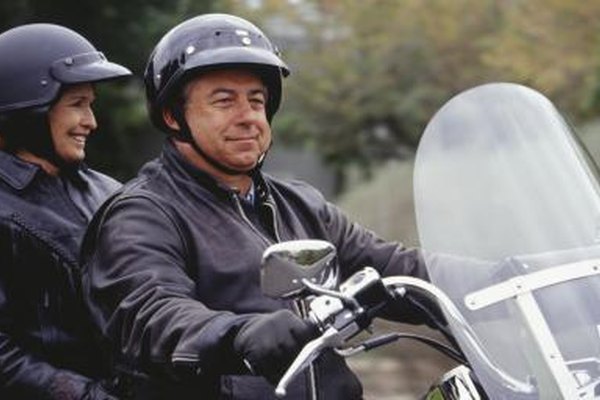 Honda Goldwing motorcycles are some of the most popular touring style bikes on the market. Honda's sleek design and sporty style appeals to consumers of all ages. Treat your Goldwing to a new custom or replacement windshield. In addition to the standard Goldwing windshields, replacements are available in different heights, venting and color options. Goldwing windshields can be replaced within an hour by anyone who is mechanically inclined.
1
Purchase a new windshield to fit the appropriate model of your Honda Goldwing motorcycle.
2
Begin removing your old Goldwing windshield by locating and lifting the height levers. The rubber boots should be pulled towards the Goldwing mirrors.
3
Move the bike mirrors forward to locate a 10mm nut located on the Goldwing windshield height lever. To prevent losing the nut, push a rag underneath the nut before removing it. Use a wrench to remove the nut. A magnet can be used to retrieve the nut if necessary.
4
Place a cloth over a flathead screwdriver to prevent damaging your Goldwing windshield garnish. Slide the covered screwdriver head underneath the Goldwing windshield garnish. Gently pry the garnish outward and pop the bosses from their grommets.
5
Finish removing the Goldwing windshield by lifting the garnish as you would the hood of a car. Turn the cover piece approximately 180 degrees.
6
Locate the last 8mm bolt and remove it, taking care not to lose it inside the bike. The Goldwing windshield garnish should lift easily off of your bike.
7
Remove the remaining Goldwing windshield screws and carefully pull off your old windshield.
8
Use the strip of Velcro on the dash, as directed. Start on one side and press firmly to make sure the Velcro sticks in place. Finish the Velcro application by trimming it to fit your dash.
9
Fit your new Goldwing windshield onto your bike. Refit the windshield by following the removal directions in reverse.
Warning
close Take care not to bend any of the mounting brackets when you are removing or replacing your Goldwing windshield.
References
Photo Credits
photo_camera Steve Mason/Photodisc/Getty Images