How to Mount a Scooter Trunk
by Tom Lutzenberger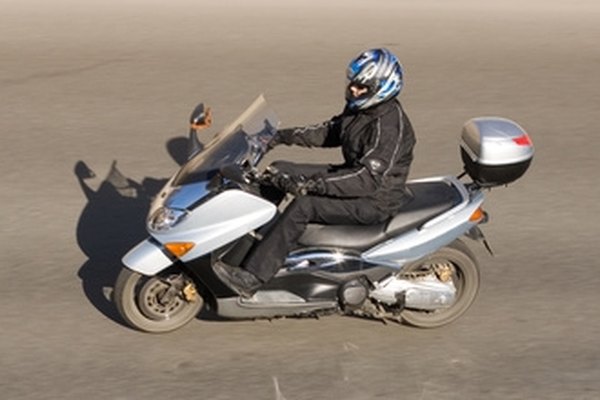 After riding a scooter on longer and longer trips, the option of having a scooter trunk or rear case may start to seem appealing, particularly for carrying extra supplies, food or a spare jacket. Installation on most models tends to be easy; you just need to have the right parts.
Determining Whether a Rack is Needed
Confirm whether your scooter already has a scooter rack to hold up a rear trunk. Order an appropriate rear rack for your scooter model if needed. Use a socket wrench and crescent wrenches to install the scooter rack using the instructions that come with the rack. Drill holes into the scooter body rear to attach the rack if they don't already exist.
Purchase a scooter trunk or rear case if you don't have one. Locate the hardware for installation. Place the scooter trunk on the rear rack for fitting. Make sure the opening side of the trunk faces away from the driver. Finish placement and insert the hardware on the bottom of the trunk to the rear rack. Use your screwdrivers, crescent wrenches and socket wrench to tighten the hardware. Attach the cross bar underneath if the securing process uses a bar. Screw the bottom screws into the rack if the screws are the securing method. Keep the parts loose to confirm proper fitting and avoid stripping any parts or nuts.
Check to make sure the trunk opens properly with sufficient clearance from the scooter seat. Tighten all the hardware so that the trunk doesn't wiggle or move around. Avoid overtightening. Make sure to use washers to avoid impressions by the securing nuts or screws into the trunk surface. Confirm all necessary hardware has been used. Take the scooter for a test ride when you are finished.
Tip
check You may be able to use a scooter model trunk for one scooter on a different model. However, keep in mind it may take some modifications to fit properly. Old trunks made in the 1970s tend to be the easiest because they use a cross bar on the bottom to secure to a rear rack. Newer, more compact cases tend to be scooter-specific for default fitting.
Warning
close Don't overload your trunk case with heavy cargo. The only thing keeping the trunk on the scooter rack is the hardware. An overweight scooter trunk could rip off while riding and bounce down the road behind you.
More Articles
Photo Credits
photo_camera man on the cycle on the road, scooter image by alma_sacra from Fotolia.com