Which Is the Best Month for a New Car Deal?
by Barb Nefer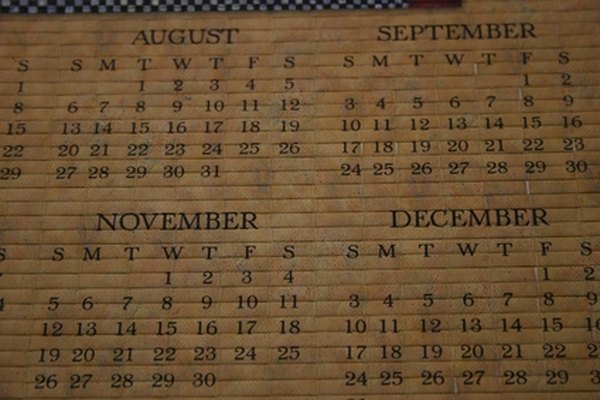 Buying a new car can be a stressful experience, but automotive websites such as Edmunds and Kelley Blue Book take off some of the pressure. They provide you with invoice prices and special direct-to-dealer incentive information. This increases your bargaining power, but you can get an even better deal if you shop during the best month. There are actually a few times each year when you get a lower price.
Model Year
The model year for a particular car brand influences the best time to shop for a vehicle. The Scambusters website explains that dealers want to clean old models off the lot when they get their stock of new vehicles. This usually happens between September and November. You may have less of a selection, but that will be offset by better deals.
Holidays
The period between Christmas and New Year's is traditionally a slow time for car sales. You may be able to get a good deal by shopping in late November or December, when most people are funneling their money into presents and parties. Philip Reed, an editor with the Edmunds website, warns that many dealers prepare for the sales slump by cutting back on inventories, so you may have to visit several car lots to get a really good price.
Considerations
Reed advises consumers to watch for announcements that certain cars will be discontinued or redesigned. These cars often go for significant discounts at the end of the model year because consumers don't want an obsolete vehicle or to wait for the new style.
Preparation
Do some basic preparation no matter when you shop for a new car. Otherwise you won't know if you're really getting a good deal. Salespeople will try to get the highest possible price for a vehicle regardless of the month. Print out the invoice price, consumer rebates and factory incentives from an automotive research site. Check the Edmunds forums to see how much people are paying for similar cars in your area.
Time Frame
The month you choose to buy your new car is important, but you must select the right day and time to maximize your bargaining power. Scambusters advises shopping on the second-to-last day or the last day of the month. The salesperson may be trying to win a contest or achieve a certain amount of sales, and the dealership might by vying for special factory incentives based on its numbers. This makes them more likely to accept less profit to achieve a bigger goal. Visit an hour before closing time to add pressure.
Photo Credits
photo_camera old calendar image by Allyson Ricketts from Fotolia.com