Farmall Tractors in the 1950s
by John Gregory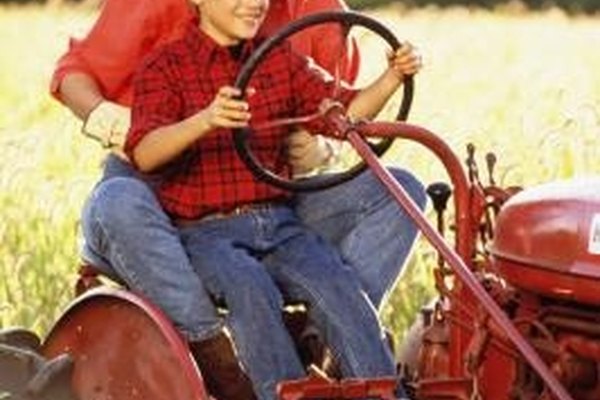 International Harvester (IH) began designing and assembling its Farmall line of tractors in the early decades of the 20th century. Its numbered series and classic letter series saw the company through the Great Depression and World War II. Yet the prosperous post-war years saw a greater demand by farmers for more power and versatility. Consequently, IH responded by upgrading the letter models in the 1950s. Though other models were produced, the "Super" series captured the exponential growth of that decade.
Super A
Though premiering in 1947, the Farmall Super A had a production life extending through 1954, with a total of 107,636 sold. Manufactured in both the Louisville and Chicago plants, this 2,400-pound tractor is 106.8 inches in length, 55.8 inches in width and 64.25 inches in height. Its four-cylinder engine runs on gasoline or kerosene, with each cylinder having a bore -- or diameter -- of 3 inches, and a piston traveling length -- or stroke -- of 4 inches. An alternate model, the Super A-1, has a larger bore. The transmission features four forward gears and one for reverse but, due to its live hydraulic system, it can be fitted with a Hydra Creeper gearbox that allows for more variable speeds in low gear.
Super C
Introduced in 1951, the Super C was terminated in 1954, after 98,310 rolled off the assembly line. This 3,100-pound machine is 123 inches long and 74.75 inches high. With an engine very similar to the Super A, the Super C generates horsepower (hp) readings of 20.72 at the drawbar and 23.67 for its power take-off. Its sliding gear transmission is likewise a Super A knockoff. However, the Super C is more versatile in its tire and wheel mountings, allowing it to respond to many types of field surface. In 1953 IH added the Fast Hitch system to the Super C, making the attachment of farm implements quicker and easier.
Super H
With an even shorter production span, the Farmall Super H was only made in 1953 and 1954. Selling 28,784 of this model, IH made a number of alterations that give the Super H its identity. Its dimensions are 3,875 pounds in weight, 133 inches in length, 75 inches in width and 85 inches in height. Containing four cylinders that can power up to 22 hp at the drawbar and over 30 hp for the PTO, the engine's bore and stroke are large at 3.5 and 4.25 inches respectively. While the Super H maintains a sliding gear transmission, it possesses five forward gears and one reverse, expanding its speed options. Double-disc brakes were installed to give the driver greater control, and a larger steering wheel appeared as well.
Super M
The Farmall Super M was only assembled in 1954, but the demand was great, thereby necessitating simultaneous production in two factories. A total of 57,092 tractors were made that year, including modified models with diesel engines and high clearances for vegetable farming. This model carries a large engine with 44.23 hp at the drawbar and 42 hp PTO. Accordingly, the bore is 4 inches and the stroke is 5.25 inches. With the additional hp in mind, designers enlarged the clutch to a 12-inch diameter and they rounded the tooth at the shifting fork edge for less grinding. Like the Super H, the Super M has five forward gears and one reverse gear. The Super M runs on gasoline, but an engine that runs on liquid propane was also available.
References
Photo Credits
photo_camera Jupiterimages/liquidlibrary/Getty Images