How to Estimate the Value of a Totaled Vehicle
by Larry Darter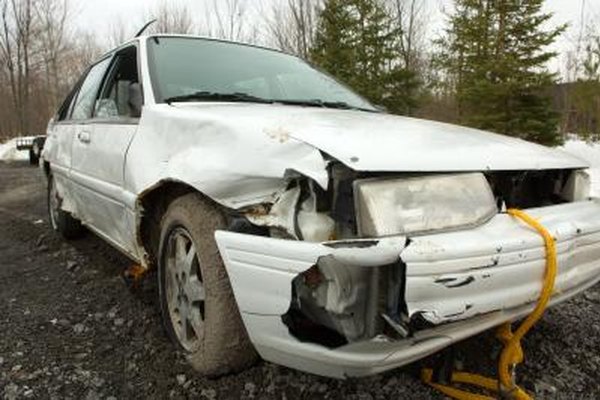 When the cost of repairing a damaged vehicle exceeds a percentage of the fair market or actual cash value of the vehicle, insurance companies will declare it a total loss. According to Edmunds.com, some insurers declare a vehicle totaled if damages are at or above 51 percent of its fair market value, while others will total at 80 percent. An understanding by consumers of how to estimate the value of a totaled vehicle helps obtain fair settlements from insurance companies on a totaled vehicle.
1
Research the third-party vehicle valuation guides and familiarize yourself with the different valuation values. The three guides most often used by insurers are NADA Blue Book, Kelley Blue Book and Edmunds. Valuation guides give three values for used vehicles ranging from the wholesale value to retail value after taking into consideration the condition of the vehicle, options and mileage. Totaled vehicle value tends to be about 75 to 80 percent of the published "blue book" value or a little less than published trade-in value.
2
Factor in things that might cause totaled vehicle value to differ from third-party valuations. For example, recent investments in the vehicle--such as a new paint job, new tires, premium wheels or sound systems or major mechanical improvements--can increase the value of a totaled vehicle. Similarly, previous damage that existed before the damage that resulted in the vehicle being totaled will lower the totaled vehicle value.
3
Consult other sources besides the blue book valuation sources, such as used car print or online ads in your area. Since fair market value of a totaled vehicle is related to the cost of similar vehicles in comparable condition with the same options and mileage, these sources can provide more accurate valuation models. One of the easiest methods for determining fair market value is finding several same type vehicles currently for sale in your area with similar options, similar mileage and condition and comparing the advertised prices. After obtaining this information, calculate an average sale price.
4
Visit local dealers and find several representative vehicles of the same make, model and condition with comparable options and mileage offered for sale in your area and calculate an average sale price.
5
Involve yourself in the totaled vehicle valuation process rather than just taking an adjuster's word for a figure offered. Instead of third party blue book values, some insurers use their own internal proprietary valuation databases or guides, dealer surveys, on-line pricing sites like Autosource.com and actual private party sales to determine the actual cash value of a totaled vehicle. If based on your own research, the adjuster's totaled car value seems too low, ask questions about how the value was determined and be prepared to negotiate by offering at least three comparison values from your own research. Totaled vehicle value in general should as a minimum be the actual cash value of the car in its undamaged condition, less any insurance deductible plus salvage value.
References
More Articles
Photo Credits
photo_camera Jupiterimages/Photos.com/Getty Images