How to Get a Driver's License in Texas
by Cate Rushton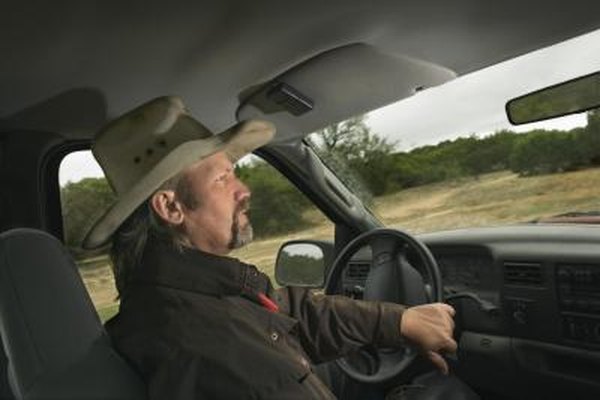 The Texas Department of Public Safety issues driver licenses to residents who provide a completed application and required documents. Applicants must successfully pass a vision, written and driving exam. Drivers under 25 must also complete a driver education course, while those under younger than 18 participate in the Texas Graduated License Program.
Verify Residency
Those seeking a Texas driver license must have lived in the state for at least 30 days. To **verify residency**, bring two documents that show your name and address. Appropriate documents include: * Mortgage statement or lease agreement * Voter registration card * Texas vehicle registration * Texas automobile title * Texas concealed weapons permit * Utility bills * Policy for homeowner's, renter's or automobile insurance * High school or college transcript from a Texas school * Pay stub * Medical insurance card * Selective Service card The 30-day residency requirement is waived for applicants who are moving to Texas and present a valid license from their previous state.
Present Documents and Application
Complete the **Application for Texas Driver License or Identification Card** Form DL-14A. [Print it](http://www.txdps.state.tx.us/internetforms/Forms/DL-14A.pdf) online or get the form at your local driver license office. [Verify your identity](http://www.txdps.state.tx.us/DriverLicense/identificationrequirements.htm) by providing: one primary document **or** two secondary documents **or** one secondary document and two supporting documents The Texas Department of Public Safety verifies the **lawful U.S. presence** of applicants with the Department of Homeland Security and requires: Birth certificate or passport to prove citizenship **or** Documents showing you are a U.S. National, a lawful permanent resident, a refugee or an asylee. Provide your **Social Security number** at the time of your application. Present **proof of automobile insurance**, or a written statement declaring that you do not own a vehicle.
Complete Education and Pass Exams
Pass a **vision test** to receive a Texas driver license. If you wear corrective lenses, make sure to have them with you when you apply. Applicants 25 and older must pass a **knowledge test** with a score of at least 70 percent. Study the [Texas Driver's Handbook](http://www.txdps.state.tx.us/DriverLicense/documents/DL-7.pdf) to prepare. A customer service representative administers the **driving test**. You'll complete tasks in four skill areas: control, observation, positioning and signaling. You may be asked to stop quickly, parallel park, back up, make a turn and obey traffic signs. If you fail the knowledge or driving test the first time, return and try two more times. After three failed attempts, you must complete the application process again. Applicants under age 25 complete a **driver education class**. Provide proof of successful completion of the class, and you won't be required to take the knowledge test.
New Residents and Teens
New Texas residents may drive in the state for up to **90 days** with a valid, unexpired license issued by their previous state. Before the 90 day period expires, a new resident 18 years or older surrenders his out-of-state license for an exemption from the knowledge and driving tests. Minors under age 18 with an out-of-state driver license or learner's permit are exempt from the knowledge test, but must successfully pass a driving test. Texas residents between ages 16 and 18 complete the **Texas Graduated License Program** to gain driving experience. In phase one of the program, young drivers obtain a learner's permit. After 6 months of supervised driving, they enter phase two and receive a provisional permit, which has some restrictions. After the completion of phase two, 18-year-old residents may receive a classified driver license.
More Articles
Photo Credits
photo_camera Thinkstock/Stockbyte/Getty Images