How to Drive a Walkie Forklift
by Sarah Davis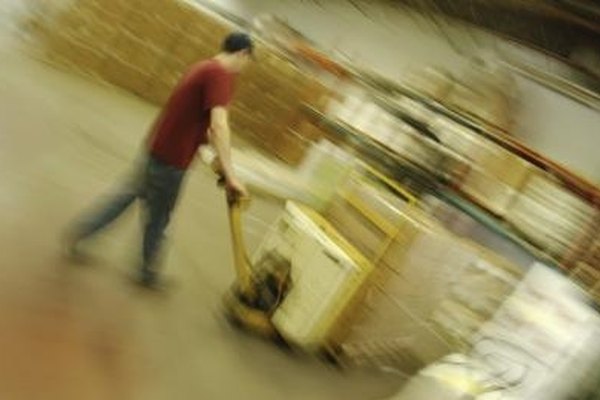 Walkie forklifts, better known as "walkie riders," are forklift machines that allow the operator to either walk behind or ride on the forklift while operating it. The walkie rider does not have extending forks or forks that rise up more than 6 inches or so. Its basic function is to transport pallets of material from one place to another. They can be difficult to steer for a beginner, but after getting used to the steering controls, walkie riders are simple to operate.
Driving
Lower the forks as far down as they will go for maximum stability when there is no load.
Grasp the grips of the steering arm so the speed control can be accessed by either thumb in walkie mode. In riding mode, keep both feet on the platform. Place one hand on the steering arm and the other on the grab handle.
Lower the steering arm to engage the electrical circuits and start the walkie rider. This disengages the mechanical brake.
Move forward by pressing the speed control button in the forward position. Pressing the button harder will speed up the walkie rider.
Release the speed control to make the walkie rider stop. Allow the steering arm to return to the upright position. The steering arm can also be pushed down until it is horizontal. Either method will engage the mechanical brake.
Lower the steering arm and slowly press the reverse button on the speed controls. Press the control harder to increase reverse speed.
Lift Operation
Raise the forks by pressing the lift push button.
Release the lift push button to stop the forks once they are at the desired height.
Press the lower push button to lower the forks. Hold the button until the forks are fully lowered.
Tips
check Lower the forks fully before parking.
check When loading, lower the forks completely and drive the forks into the loading position -- aligned with the pallet openings -- on the pallet. Raise the forks until the pallet is not touching the ground anymore.
check To unload, lower the forks slowly until the pallet rests on the ground. Slowly, move the truck backwards until the forks are free of the pallet.
check When the steering arm is released, the "dead-man brake" is engaged, which shuts off power to the walkie rider.
check There are many different walkie rider products from many different manufacturers. Refer to the user manual for your walkie rider to obtain precise directions for that model, though most walkie riders function similarly.
References
Photo Credits
photo_camera Hemera Technologies/AbleStock.com/Getty Images