DIY Motorcycle Covers
by Daniel Westlake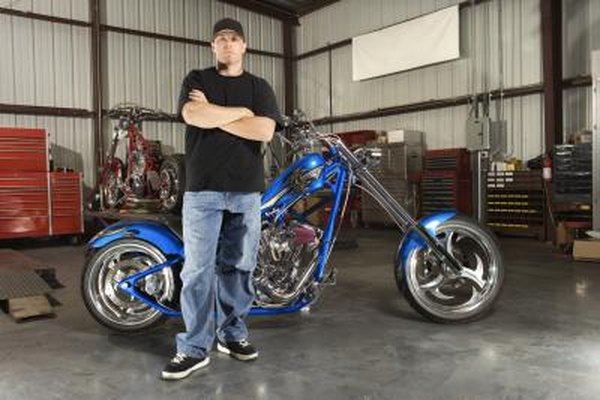 Motorcycles should look attractive and sleek when they are on the road, with shiny chrome and perfect paint jobs. The way to maintain this look for your motorcycle is to cover it whenever it is not being used, even if it is stored in a garage. While you can buy a motorcycle cover, creating your own will cost you far less and be just as effective.
A Tarp
You can make an effective motorcycle cover by using a tarp you would use to cover a picnic table or a large number of storage supplies. Make sure the tarp is large enough to fully envelop the motorcycle when it is parked so that it is fully covered. These tarps are coated with a waterproofing plastic that will keep water off the motorcycle. The plastic on the tarp can be slightly abrasive, however, so use care when removing it from the motorcycle, as it can scratch the paint or chrome if removed too quickly.
Sewn Plastic Cover
You can make a custom motorcycle cover for little to no money by taking large pieces of plastic and sewing them together. Sew them together with fishing line or a piece of water-resistant string or fabric. This will be a bit of a painstaking process, but by sewing the pieces of plastic into sections, the handlebars and the other parts of the motorcycle will be fully covered. The only problem with this homemade plastic cover is that it can get torn from too much contact with the ground, and these holes can spread over time.
Small Garage
A small garage or trailer can be set up to pull the motorcycle into when it is not being used, to protect it from the elements and any other threats to it when it is not moving. A real garage can be used for this, but a small trailer or shed might be better because other things going on in a larger garage can possibly damage the parked motorcycle. These small structures are a little expensive to buy and quite time-consuming to build. However, they are the best thing for a true motorcycle enthusiast, because you are literally giving your motorcycle its own room.
References
More Articles
Photo Credits
photo_camera Jupiterimages/Comstock/Getty Images