How to Customize a Chevy Avalanche
by Lisa Wampler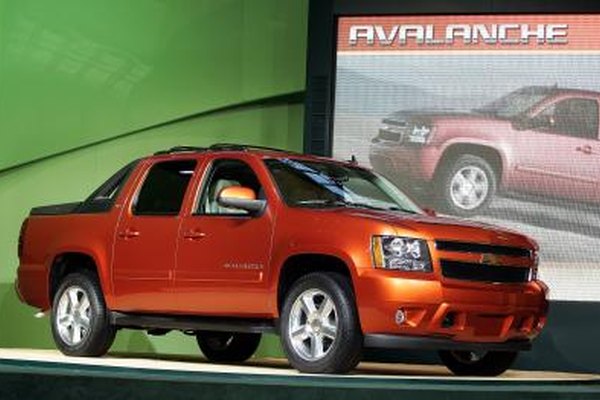 The popularity of the Chevy Avalanche has resulted in significant aftermarket options to personalize the vehicle to your needs and tastes. This crossover, automobile-truck resembles the Chevy El Camino of the early 1970s but with the body styling commonly available on Chevy trucks. Given the vehicle's versatility, it has become popular with aftermarket enthusiasts around the world. With a few bolt-on aftermarket parts, the Avalanche can be a vehicle that looks all its own.
1
Install Lamborghini door conversion kits (also known as vertical doors.) This is a popular aftermarket upgrade that allows your door to open upward instead of outward similar to the way Lamborghini doors open. This modification used to require custom fabrication, but recently manufacturers have released direct bolt-on conversion kits.
2
Install a body kit. Body kits have been popular since the early 1990s when the Honda aftermarket became popular. Kits have been developed for virtual every vehicle since due to fact that they can add a dramatic change to the looks of the car. Body kits generally come with aggressively styled hoods, bumblers and side skirts. Body kits can be purchased in a number of price ranges, but keep in mind the kits will need to be painted. This usually costs more than the body kit so the cost should be factored in.
3
Lift the body up with a Chevy lift kit. A suspension lift kit has always been popular with truck enthusiasts, and since the Avalanche is classified as a truck, it would make sense to lift the body to give it a more aggressive stance. This is also beneficial if you want to go with larger rims and tires, as it will give more clearance in the wheel wells.
4
Install 34-inch wheels. The largest available rims for an Avalanche is a 34-inch rim. Large rims and low profile rims have become popular over the last few years with aftermarket enthusiasts, and 34-inch rims will give your Avalanche the same look as the Hummer's.
5
Install 34-inch Super Swamper tires. Paired up with 34-inch rims, Super Swamper tires will provide an aggressive off-road look to your Avalanche and allow it to go places that most trucks cannot go. These tires will be moderately noisy during highway usage, but will prove to be a bold statement to anyone who sees your Avalanche.
References
More Articles
Photo Credits
photo_camera Tim Boyle/Getty Images News/Getty Images