How to Clean out a Thermo King Refrigeration Unit
by Caroline Baldwin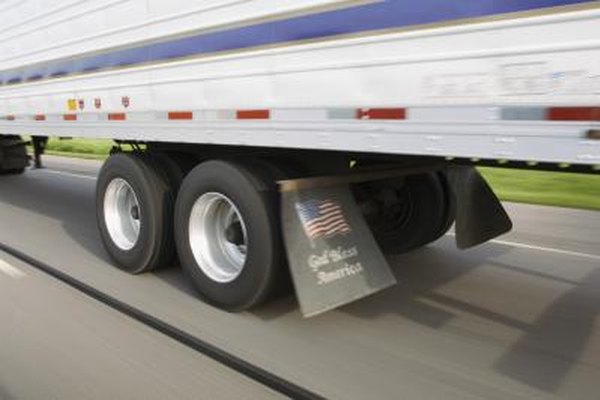 Thermo King refrigeration units help transport meats, vegetables and frozen goods across the country. Cleaning the cargo area of the refrigeration units is important to keep bacteria at bay. The drivers are asked to clean the units out before picking up a new haul of items that require refrigeration. Cleaning out a Thermo King refrigeration unit does take time out of a trucker's trip but it also ensures food safety for all who handle and eat the unit's contents. If time is of the essence, drivers can always schedule a professional wash at a large truck stop for a fee.
1
Turn the refrigeration unit off before you start to clean it out.
2
Remove any palettes, meat hooks or other hardware from the cargo space.
3
Put on your rubber gloves and mask. Mix five parts industrial refrigeration unit detergent, such as Reefer Cleaner by Unitor Chemicals, to 10 parts water in the 5-gallon bucket. Pour the mixture into the soap dispenser of the power washer.
4
Hook the power washer up to the garden hose.
5
Turn the power washer on and set the heat to low. Set the spray to high power. Spray the inside of the Thermo King refrigeration unit. Spray the ceiling first, and then spray each side wall. Spray each wall from the top to the bottom.
6
Power wash the floor of the unit. Start at the back of the unit and spray toward the door. Use a wide broom to sweep the excess water from the floor and out the doors.
7
Sweep the floors with a reefer trailer broom after they have dried. Reefer trailer brooms have notched bristles that can get down into the grooves of the cargo floor. This will remove excess debris that can harbor bacteria.
Tip
check If your Thermo King refrigeration unit does not smell fresh, throw coffee grounds on the floor before you clean it out. Close the doors of the unit and set the thermostat to 80 degrees. Let the coffee grounds sit for 20 minutes. Turn the heat off and open the doors. Let the grounds cool for 15 minutes. Clean it as usual.
Warning
close An electric power washer is a safer choice to use in refrigeration units because it does not use gasoline that can contaminate the space.
Photo Credits
photo_camera Thinkstock Images/Comstock/Getty Images