How to Check the Motor Oil Level in a Kawasaki Lakota 300
by Chris Gilliland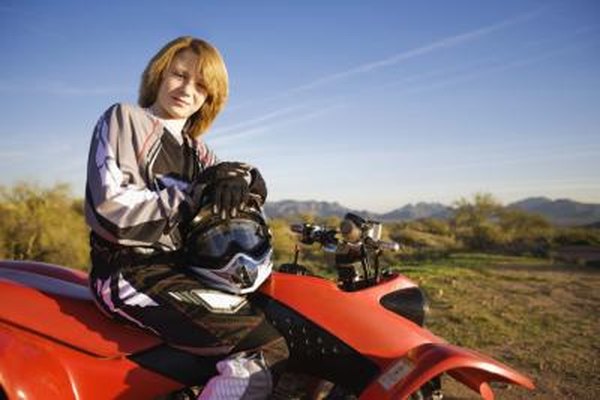 All Terrain Vehicles are usually purpose-built for either work or play. Kawasaki Lakota 300 fills the need for a hard-working, but fun, ATV. Boasting a 300 cc motor, sporty bodywork, and a rugged chassis, the Lakota is a jack-of-all-trades that is equally at home on the ranch or on the trails. But keeping the Lakota well-maintained is the key to a long and happy relationship, starting with regular oil level checks to ensure that the motor has the lubrication it needs to operate properly. Kawasaki has incorporated an oil sight glass into the motor.
1
Turn the ATV's ignition on and start the motor. Let the oil warm up by letting it run for three to five minutes. Stop the motor once the oil has warmed and turn off the ignition switch. The oil will expand slightly as it warms, providing an accurate indication of the motor's oil level.
2
Crouch down slightly to the right of the ATV and locate the oil sight glass on the motor. The sight glass is positioned just below the rear brake pedal on the motor's right side crankcase cover.
3
Take note of the oil level in the oil sight glass in relation to the marks imprinted on the upper and lower portion of the oil sight glass. These marks represent the motor's total oil capacity, with the upper mark indicating the maximum oil capacity and the lower mark indicating that the oil is nearly depleted. For best results, the oil level should be centered between both marks.
4
Remove the oil filler cap from the right crankcase cover. Slowly add oil in through the oil filler to raise the oil level to the center of the oil sight glass. Drain excess oil using a hand pump to lower the oil level to the center of the oil sight glass. Replace the oil filler cap.
Tip
check Always warm the motor's oil before checking the oil level. Cold oil will provide an inaccurate reading and may cause you to overfill the motor.
Warning
close Lower the oil level if it is close to the top mark to prevent oil blow out through the air filter. Blow outs can clog the air filter and affect the performance of your ATV.
More Articles
Photo Credits
photo_camera Jupiterimages/Brand X Pictures/Getty Images