How to Baja a VW Bug
by Don Kress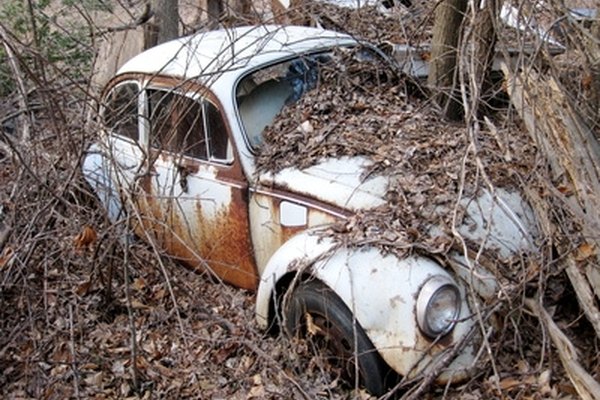 Turning a Volkswagen Beetle into a dune buggy is one of the oldest hot-rod projects still widely engaged in today. It is often done by owners of early-model, non-restorable Beetles. In general vehicle year models ranging from the 1940s to the 1960s are not used for this purpose, but 1970s models are all fair game. Many of the 1970s models are still available in Texas and Arizona because manufacturing of Volkswagen Beetles shifted to Mexico after 1970.
Remove the Fenders, Bumpers, and Trunk Lid
Support the Beetle on jack stands, then proceed to remove the fenders, both front and rear. They are held in place with a series of bolts attaching them to the main body of the car. Cut the wiring to the front and rear lights, retaining the wires, because you will re-route the lights later. On older cars, the bolts may be rusted into place. Use the reciprocating saw if you must, but remember that fenders on classic VW Beetles which are restorable can be resold to help finance the project.
Remove the bumpers by unbolting them from the support brackets, both front and rear. Retain good bumpers, only cutting them off if necessary.
Remove the trunk lid by pulling the pins from the hinges located at the top of the trunk.
Replace the Wheels and Tires, Suspension, and Exhaust
Remove the stock wheels and tires, retaining the lug nuts
Replace necessary suspension components such as shock absorbers and springs, opting for taller springs to raise the ride height of the Beetle. To remove springs, hold them in place with the heavy chain to prevent accidents, then use the spring compressor to remove them, then replace the old springs. Consult a professional if you are unfamiliar with spring removal and replacement procedure, as it can be dangerous. If you intend to lift the suspension, use suspension blocks on the rear leaf springs and install them according to manufacturer's instructions.
Use the reciprocating saw to remove the stock exhaust. Measure 5 inches from the header flange and make your cut. Install the megaphone exhaust at a 45-degree angle upward according to manufacturer's instructions.
Install the new wheels and tires, tighten down the lug nuts, and remove the Beetle from the jack stands.
Tip
check Always check local and state laws concerning off-road vehicles, and only drive in designated areas. Keeping the Beetle street-legal may require leaving bumpers or fenders in place. Local sound ordinances may also apply. Check with your local police before beginning.
Warning
close Wear gloves and goggles when working with power tools around rusty cars. Never remove safety systems on your vehicle such as seat belts.
References
Photo Credits
photo_camera VW Käfer im Laub image by DDD-Science from Fotolia.com