How to Switch Over a Title
by Tabitha Deptula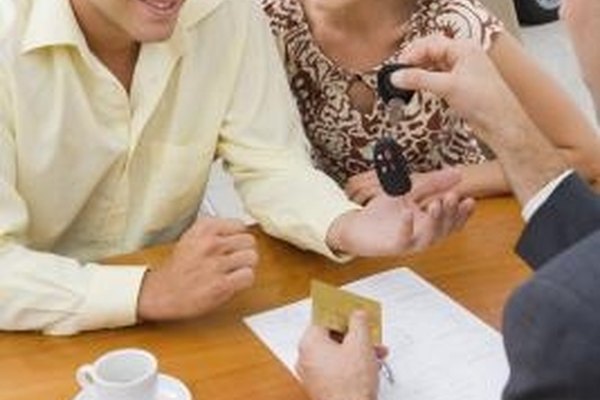 When a vehicle changes ownership, you are required to switch over the vehicle's title to the new owner. Transferring the title also requires filling out a release of liability form, which releases you, as the previous owner of the vehicle, of any responsibility that may arise from the use of the vehicle by the new owner. The title of a vehicle is an important document that contains information about the vehicle's owner, as well as the make, model, year and odometer reading of the vehicle. This document serves as proof of ownership of the vehicle.
Locate the vehicle title. On the back side of the title, in ink, print the name of the new owner, the owner's address, the odometer reading at the time of sale, the new owner's address, the date the vehicle was sold and the selling price. You, as the vehicle's previous owner, will also need to fill out some information, such as the address, and will have to sign and date the title.
Certify by signing, on the front of the title, under penalty of perjury, that your signature as previous owner of the vehicle releases the interest of the vehicle. The new owner will also be required to again fill out the odometer reading and obtain the signature of the company selling the vehicle, if applicable.
Find, attached to the the title, a separate form that the new owner will need to fill out and mail to the DMV, usually within five days of purchase, in order to avoid penalties and fines. This is called a Notice of Transfer and Release of Liability form. The new owner will need to fill out information such as the previous and new owner's personal details.
Instruct the new owner to take the title to the DMV to have it transferred. The DMV agent will verify information, collect a transfer fee, and a new title will be mailed out to the new owner.
Tips
check Failure to mail in your Notice of Transfer and Release of Liability form could result in liability to the previous owner, who will be held responsible, should the vehicle be in an accident.
check In addition to a release form, print out a bill of sale for the vehicle. This will help protect you, the previous owner, in case something happens to the vehicle with the new owner.
check Make copies of all paperwork including the title, bill of sale and release forms.
Warning
close Do not attempt to provide incorrect information such as price, odometer reading or addresses. You could be charged with a crime for providing false information.
References
Photo Credits
photo_camera Polka Dot Images/Polka Dot/Getty Images