How to Remove a Toyota Crankshaft Pulley
by Shayrgo Barazi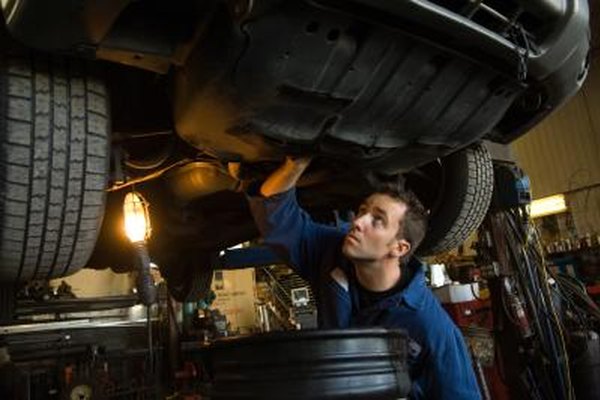 The crank pulley, which is short for crankshaft pulley, will have to be removed from your Toyota if you are replacing the timing belt or front main seal. The crank pulley is only held on with one bolt, but there are other parts that need to be removed before removing the crank pulley.
1
Raise the Toyota and place on jack stands.
2
Remove the wheel on the side of the engine that the crank pulley is on.
3
Remove the plastic shrouding that protects the pulleys and belts from road debris with a screwdriver.
4
Loosen the accessory belts so that they can be removed from the crank pulley. To do this, loosen the lock bolt on each belt with a ratchet or wrench and then loosen the adjuster with a ratchet or wrench. Keep loosening the belts until there is enough slack to be able to remove them from the crank pulley.
5
Loosen the crank pulley bolt with an impact gun and remove the bolt.
6
Remove the crank pulley.
Tip
check If the crank pulley won't come off after removing the bolt, use two pry bars to pry on the back side of the pulley. Position both pry bars at 180-degree angles from each other and begin prying with a moderate amount of force until the pulley comes off. Do not let the pulley fall on the ground as that could cause damage to the pulley.
Warning
close Wear eye protection to prevent eye injury.
More Articles
Photo Credits
photo_camera Jupiterimages/Photos.com/Getty Images