Remote Keyless Entry Problems
by Dennis Hartman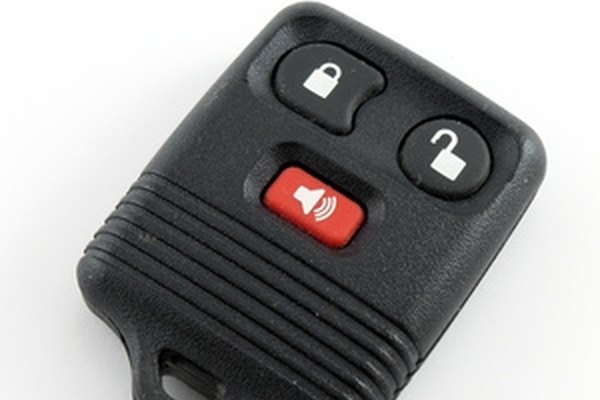 Remote keyless entry is a feature that has become commonplace in recent years. Once reserved for luxury vehicles, today almost every automaker offers keyless entry as a standard or optional feature. However, there are several problems that can occur with any remote keyless entry system.
Unwanted Activation
One of the most common problems with remote keyless entry systems, according to contributors to Automotive Forums, is unwanted activation of a keyless entry remote. This can occur when users accidentally press the wrong button, such as the panic alarm, instead of the desired button to unlock the trunk or vehicle doors. Some drivers also complain of activating the button in their pockets accidentally. The best way to deal with these issues is to handle your keyless remote carefully and always double check before activating a button.
Batteries
Keyless entry remote controls usually contain a single battery, which is sealed within the plastic housing. Eventually, these batteries will no longer have enough charge to activate the door locks. When this happens you can replace the battery by prying the remote housing open and checking the battery size and type. Most keyless remotes use a standard battery, which should be available at most department stores or electronics retailers.
Lock Problems
In some cases, the keyless remote is not the problem. Rather, a short circuit or faulty motor in the door lock is to blame. These problems can be difficult to diagnose, as the issue might be the result of any one of a number of faulty components.
Warranties
In some cases a remote keyless entry system problem may be covered under a new vehicle's warranty. Aftermarket systems usually carry separate limiter warranties that protect against faulty components. In all cases, check with the vehicle manufacturer or the maker of the keyless entry system before contracting for repair at an auto shop.
Solutions
To test whether your door locks are faulty, try activating them from the driver's door or center console rather than the keyless remote. If they still fail to engage properly, the remote may not be faulty. Try replacing your remote's battery first, as this is one of the most cost-effective solutions. Finally, in extreme cases you may need to have electronic components or wiring replaced on your car. Consider whether this convenience option is worth the cost, or if you'll be satisfied simply using the door keys.
References
More Articles
Photo Credits
photo_camera keyless remote image by Ray Kasprzak from Fotolia.com