Parts of a Yamaha Golf Cart
by Bud Maxwell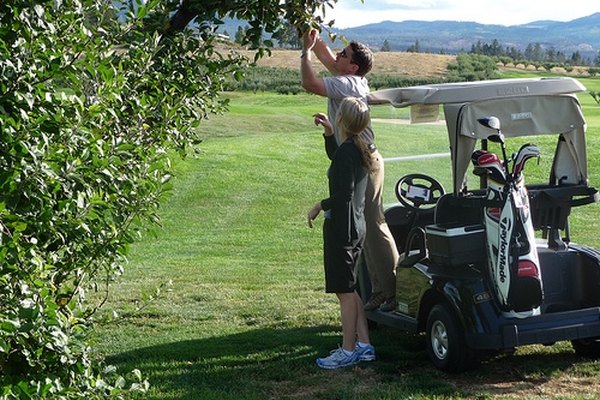 For those who believe golf carts are just for those who play the game, just take a vacation to Catalina Island, 22 miles off the coast of Long Beach, Calif. Avalon, the only city on the island, is the only community in the state where golf carts are the primary form of transportation, and the Yamaha golf car dealer is the only "auto" dealer in town. Just about every person who lives in Avalon owns a golf cart and they, better than most golfers, know the parts of their carts.
Gas vs. Electric
On most golf courses, you will find the Yamaha golf carts powered by electric motors. This is largely because of their nearly silent operation, which doesn't distract the players. But take a walk through downtown Avalon, Calif., and you will hear the sound of gasoline engines powering almost all of the carts in town. This is because Avalon's residents are more concerned about negotiating the hills than golf etiquette. Yamaha's first golf cart was introduced in 1979 and came with a two-stroke engine, powerful, but noisy. The following year, the company offered a 48-volt electric model. Today, Yamaha offers both versions.
Major Components
Like all other golf carts, Yamaha models have a lightweight frame, front and rear axles, and a fiberglass body with front and rear cowlings. A stripped-down version can be purchased, but most golf courses and private buyers want a windshield and a roof. Yamaha's steel frame has one drawback, especially for those living on Catalina Island: It quickly forms surface rust in salty air. Competitor Club Car makes its frames out of aluminum. These won't rust, making Club Car the biggest competitor for the Yamaha dealer in Avalon.
Windshields
Yamaha golf carts have a one-piece windshield, a bit of a drawback on a warm day when the occupants can't feel the breeze while traveling down the fairways at a top speed of 19 miles per hour. A two-piece, fold-down windshield, which allows the top half to flip down for ventilation, is available for about $160. Both windshields are made of plastic and are highly susceptible to scratching. Cleaning the windshield with any type of ammonia-based product will permanently "fog" the material.
Seats
All golf courses use the two-seat version with bag racks on the rear. However, most private buyers on Catalina Island purchase the four-seat version, which doesn't have the ability to carry clubs. Yamaha also makes a six-passenger model, with four seats facing forward and two facing backward. It sells for about $11,000, nearly $3,000 more than the four-seater.
Other Features
The Yamaha carts found at most golf courses are stripped-down models and don't come with headlights or horns, sometimes even without roofs. However, the company does make street-legal models that come complete with high and low beams and turn signals.
More Articles
Photo Credits
photo_camera Image by Flickr.com, courtesy of Kelowna09