Outboard Motor Bracket Design
by John Willis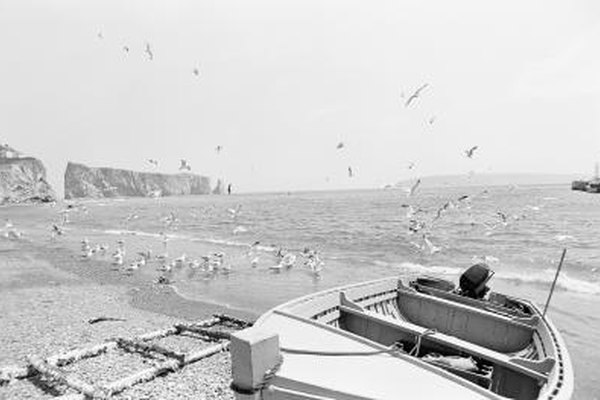 The world of motor boating can be divided into two categories: inboard motors and outboard motors. There are a variety of outboard designs from rugged and simple to complex and clever. Many boats come equipped with outboard brackets, however, since outboards are portable power sources, most boats can be retrofit if they have a bracket to accommodate the motor.
Reinforced Transom
The simplest outboard bracket design is the use of a transom to clamp the motor to. This is often done on drift boats or lake fishing boats; some canoes have flat transoms to accommodate small motors. Transoms are generally engineered and factory-reinforced specifically for motor mounting. They may also be usable as a motor-mounting surface with custom reinforcement.
Foldable Kicker Motor Mount
Auxiliary motors are often called "kicker" motors. They can be used for trolling or as the power source for sailboats when navigating harbors. A foldable kicker motor mount essentially extends a portion of transom aft of the transom to mount the kicker. When the motor folds up, it also lifts the motor out of the water. There's no need to tilt it, the bracket does all the work.
Double Transom
Many boats designed for outboard motors have dual transoms, one notched down to accommodate the outboard and a second, inner transom for buoyancy, should water flood the compartment between the motor mount and the second transom. This design presents an inherent danger in transom-mounted motors. While most boats are well designed to move through the water or plane over the water, the transom can be problematic. A relatively small wave can overcome the transom, potentially foundering the boat. A second transom can help, however, in a chop, filling the area between the transoms puts you in a compromised position, although it's better than foundering the entire hull. Be careful with any lowered transom mounts.
Offshore Bracket
Offshore brackets solve many of the problems and potential dangers of cutout transom mounts. An offshore bracket looks similar to a boat's swimming platform; it's often made of aluminum or stainless steel. The heavy-duty brackets are often used to mount multiple high-powered outboards plus a kicker motor, eliminating the need for a cutout transom. The bracket itself acts like a tab, keeping waves from lapping over the transom.
Photo Credits
photo_camera Photos.com/AbleStock.com/Getty Images