Mounting Instructions for a MotorGuide
by Will Chandler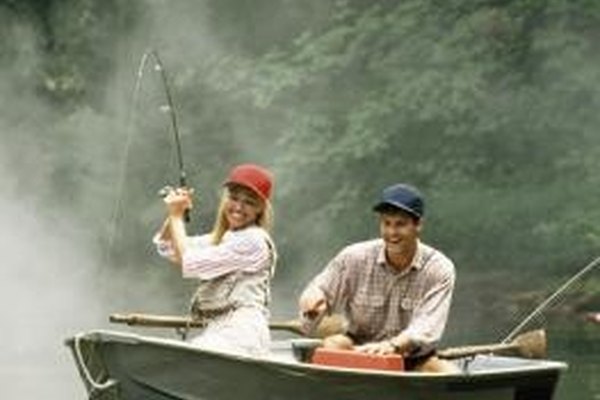 MotorGuide bow mounting systems allow you to install a trolling motor on the bow of the boat. Trolling motors let you move around using the boat's electrical system rather than the gas or diesel engine. MotorGuide makes several different models of mounting options that include both permanent and removable mounts. Selecting the appropriate location and type of mount is important to ensure that the mount functions properly.
Select the appropriate location on the bow of the boat to install the mount. The location should be as level as possible and toward the front of the boat. Also make sure that there is enough room to attach locknuts onto the bottom of the mount.
Wipe down the area using a shop rag. The fiberglass deck needs to be clear of debris and grease before the installation can begin.
Position the bottom half of the mounting system onto the deck of the boat. With the marker, mark the location of the four mounting holes in the bottom of the mount. Remove the mount from the deck and check to make sure the marks are visible on the deck of the boat.
Drill the holes in the deck. Use a sharp 1/4-inch drill bit to drill the holes. Drill slowly and use proper lubrication such as WD-40 or any other penetrating lubricant. Wipe away any debris using the shop rag.
Place the supplied rubber washers on the deck of the boat so that they line up with the holes drilled into the deck. These washers will cushion the mount and protect against damage from vibration.
Place the mounting system on the deck and insert the four bolt screws through the mount and into the drilled holes. Use the Phillips-head screwdriver to screw the bolts into place.
Attach the supplied washers and locknuts to the bottom of the bolts that hold the mount to the deck. Use the adjustable wrench to tighten down the locknuts.
Flip the top half of the mount back onto the bottom half. Check it for clearance of the deck and check to make sure it folds completely. The mount is ready for a trolling motor.
References
Photo Credits
photo_camera Jupiterimages/liquidlibrary/Getty Images