How do I Repair Winch Cables With Wire Cable Clamps?
by C.L. Rease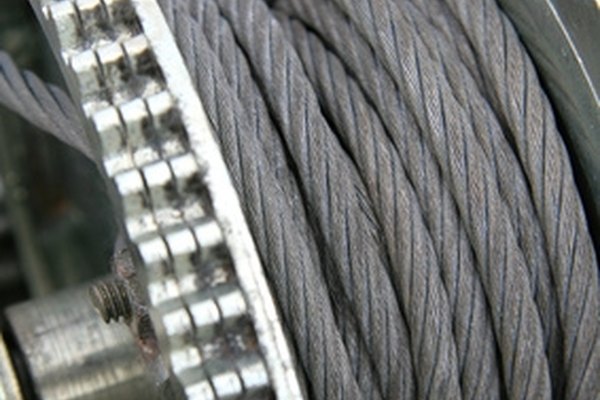 Your winch's cable provides the power to pull your vehicle free when stuck. The pressure exerted on the cable causes it to wear. When a winch cable wears, the individual wires that make up the cable begin to fray. A severely damaged cable can snap under pressure. A snapped cable can cause damage to your vehicle and/or people in the area of the cable, and leave you stranded in a mud hole.
Flip the winch directional switch to neutral. Pull the cable out of the winch until you expose the damaged section of the cable.
Cut the damaged length of cable away from the winch with a pair of cable cutters. Remove the hook from the end of the damaged cable with an open end wrench.
Form a double-back loop of 7 1/2 inches of cable. Set a thimble in the formed loop. Squeeze the doubled section of cable to tighten it against the thimble.
Loosen the two hex nuts--holding the saddle to the U-bolt--from each cable clamp. Slide one U-bolt over the short end of the cable. Slide a saddle onto the U-bolt. Thread one hex nut onto each leg of the U-bolt. Push the assembly tight to the end of the thimble. Tighten each nut to the specified torque with a socket attached to a torque wrench.
Secure a second cable clamp one inch in from the short end of the cable using the methods described for the first cable clamp. Install a third cable clamp midway between the two installed clamps if you are repairing 3/8-inch cable.
Attach the hook to the repaired end of the cable with an open end wrench.
References
More Articles
Photo Credits
photo_camera filin de treuil image by Mitch Chanet from Fotolia.com