Chevy Engine to Jeep Conversion
by Richard Rowe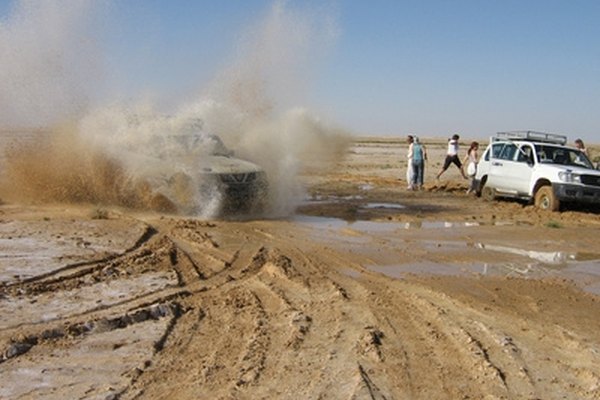 Chevy V-8 into Jeep conversions have been popular for generations. It almost seems like a no-brainer; simply install the biggest and cheapest V-8 out there into one of the smallest and most versatile off-road vehicles ever made. At the end of this well-traveled road is a go-anywhere buggy with the heart of a true hot rod.
Selecting an Engine
Jeeps in general (especially older YJs and TJs) are prized for their simplicity and function-over-form aesthetic, which makes installing a big V-8 in place of the vehicle's stock four-cylinder a matter of time and choice. Yes, a big-block Chevy will fit between those flat fenders, but you'll probably regret it. Big-blocks are heavy and expensive, and the extra torque they produce is somewhat wasted in a light and low-geared Jeep. Compared to even a 350 or 383 small-block, you're really not getting much in terms of trade off for the big-block's disadvantages.
Transmission
You can buy an adapter kit to fit the small-block to your stock Jeep transmission, but don't bother; the T-4, T-5 and 999 manual transmissions used in most Jeeps will explode into shrapnel behind the V-8's grunt. You be dollars and days ahead just swapping out the stock transmission for an automatic TH350, TH400 or a 700R4 (if you need overdrive). Using an overdrive transmission will let you run 25 percent higher rear-end gears, which should easily make up for not using a big-block.
Drivetrain
Your stock drivetrain was strong enough for the Jeep's original four-banger, but it probably won't last long behind a V-8. Well, it might if you never take the Jeep off-road, but then what's the point? Replacing the axles with something heavier duty will buy you some peace of mind on the trail. You should be able to get away with a Dana 44, Ford 8.8 inch or GM 8.5 inch on the front (since no more than 50 percent of the power will ever head that way), but go with a Ford 9-inch or Dana 60 for the rear. The stock transfer case may hold up for a while, but you should really consider installing a stock transfer case (like the NV4500) from any 4WD GM V-8 truck. Thank GM's bean counters for the fact that the TH350 and 700R4 use the same transfer-case pattern, which makes transfer case selection a matter of budget and not of necessity.
Conversion
While Chevy V-8s aren't exactly bolt-ins, they're the closest thing you'll find for a Frankenstein swap like this. Transmission and engine mount adapters abound, as do application/engine-specific exhaust headers and radiator hoses. You can even buy a large-capacity, V-8-ready radiator to fit the Jeep grille. While you can count on a certain amount of fabrication, it will amount to far less than with most swaps, if you buy the right parts.
References
Photo Credits
photo_camera jeep-safari image by Arkady Chubykin from Fotolia.com