How to Change the Oil on a '95 Harley Davidson Dyna Low Rider
by Contributor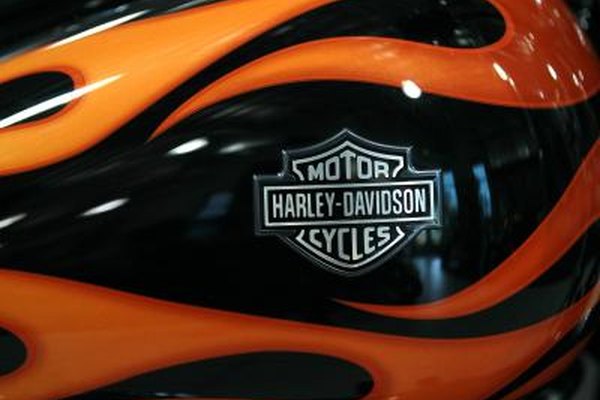 The oil in your Harley-Davidson Low Rider is its lifeblood. Keeping the engine well lubricated is vital to a working engine. Regular oil-changes are vital to maintain the longevity of your bike. Taking an active role in the maintenance of your bike can save you time and money in the long run. Changing the oil on a 1995 Low Rider is essentially the same procedure as it on all of Harley-Davidson's Dyna-line motorcycles of the Big Twin Evolution-engine era (1984-1999).
1
Run the Low Rider's motor for a few minutes to warm the oil up. Shut off the bike.
2
Find your Low Rider's drain plug (on the oil pan). Using the screwdriver, loosen then remove the drain plug, and drain the oil into the drain pan.
3
Remove the Low Rider's dipstick.
4
Let the oil drain completely.
5
Clean the drain plug threads with a clean cloth or paper towel, apply sealant, and replace the oil plug and dipstick.
6
Move the drain pan to beneath the oil filter. Using the oil filter wrench, remove the oil filter.
7
Discard the filter in the pan with the old oil. It is full of oil.
8
With a clean rag or paper towel, clean the area where the gasket meets the motor.
9
With a clean finger, rub a bit of new oil on the gasket of the new oil filter before installing it.
10
Install the new filter, turning until snug, then turn it by hand another 1/2 turn. Take care to not over-tighten, as this will damage the filter gasket or the filter, possibly causing the Low Rider to fail.
11
Open the oil reservoir, using the funnel; fill the tank with the fresh oil and close the reservoir.
12
Run the motor for a few moments to coat the engine with the new oil. Check for leaks. (If you find any, check the filter and drain plug for a tight fit.)
13
If there are no leaks, after the motor has run for a few minutes, turn off the motor and check the oil level. Top it off if necessary.
Tips
check The service manual will tell you what size of wrench you will need as well as what kind of oil and oil filter you will need for your specific Low Rider.
check You want the oil warm, but not hot, to help the oil flow out.
check Take the old oil and oil filter to an oil collection spot or to a local mechanic who will accept oil to be properly disposed of later.
Warning
close The oil can be hot and burn the skin.
More Articles
Photo Credits
photo_camera Justin Sullivan/Getty Images News/Getty Images