How to Buy a Used Conversion Van
by Felicia Greene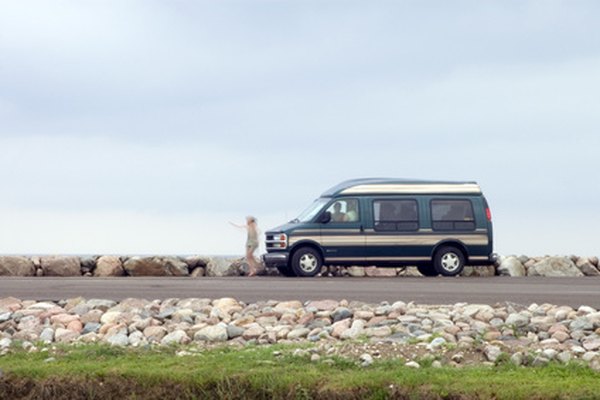 Conversion vans combine a variety of owner-selected features into a custom or semi-custom vehicle designed for each owner's needs. Vans can be converted for wheelchair use, camper use or special uses such as dog show vans.
According to Vanture, a Denver-based van customization company, conversion van packages can include sleeping and toilet facilities, basic kitchen amenities and built-in television and audio systems. By identifying the type of conversion van appropriate for your needs, you'll be better able to target your search.
1
Locate a local used car business and present a salesman with a list of your desired conversion van features. Although your ideal van may not be in stock, the dealer can search a nationwide database for suitable vehicles. Finally, the salesman may know of a suitable van that will be for sale in the near future. You can buy the van with cash or a financing program.
2
Search for vans in the classified ads. Buy newspapers from around your region and look in the "Vans for Sale" category. Because the ad header may not specify "conversion van," it's important to read the entire listing. Complete your purchase by paying the owner directly. For dealers, pay with cash or apply for financing.
3
Browse a national used car website. National online databases allow you to view available vehicles from around the United States. Vehicles are sold by dealers and private sellers.
Specify "conversion van" in the search text box and select other vehicle attributes and price parameters. Finally, select the geographic boundaries of your search. Once you've found a suitable conversion van, make payment arrangements with the dealer or private seller.
4
Contact a specialty van dealership. Van-focused dealerships feature a large inventory that includes standard minivans, passenger vans, and conversion vans. Conversion vans are usually available on a dealership lot, with additional vehicles listed on the company's website. Consult a salesman to obtain your van and complete the purchase through the dealership.
5
Shop for used rental conversion vans. Car rental companies lease, and then sell, passenger vans and conversion vans as municipal commuter vehicles. These vehicles have generally been maintained by the rental company and may have been subjected to less wear and tear than the average rental car. Complete your purchase through company.
References
Photo Credits
photo_camera car & travellers image by bright from Fotolia.com