Boat Safety: How to Drive a Boat
by Floyd Drake III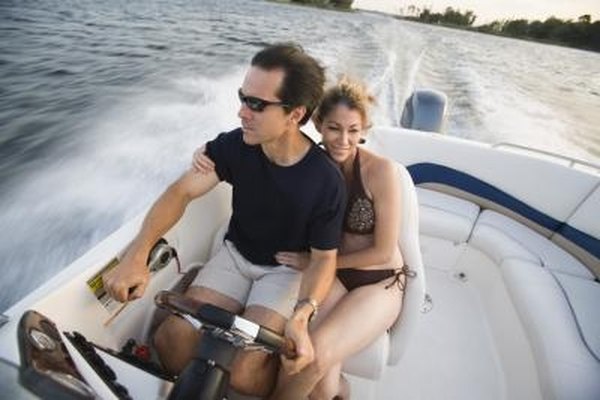 Driving a boat is a lot different than driving a car, and in some cases, it is the opposite. Depending on the type of steering, boats may move in the opposite direction to the direction you turn, as in the case of rudders and tiller-driven outboards. However, many powerboats are equipped with a steering system much like an automobile, turning in the same direction as the wheel. As there are no brakes, boats do not respond the same as cars, and a wider berth is necessary. Safely driving, or navigating, a powerboat with a steering wheel requires caution and following the rules of the waterways.
Take time to familiarize yourself with the boat. Different boats handle differently, and each one has a different turning radius and response time. Inboard engines handle reverse better than outboards, and all engines react differently to the throttle. Larger boats also carry forward momentum for longer distances than smaller boats. When driving a boat for the first time, move slowly and cautiously at first, testing the boat to get a feel for its particulars.
Approach docks from the starboard, or right side, of the boat, when possible. Docking a boat can be the trickiest part of boat handling because it usually occurs in tight spaces with other boats present. Place fenders on the docking side of the boat and approach the dock at a 45-degree angle. When the boat is a full-length away from the dock, throw the rudder hard left, which causes the starboard side to swing dockside. To prevent hitting the boat in front of you, give a quick throttle burst in reverse and shift into neutral, which slows the boat's forward momentum.
Maneuver slowly into slips. When approaching the boat slip, start turning the wheel 90-degrees when the boat is a full length away from the slip. Enter the slip with enough enough forward momentum to control the boat's steering. As the boat enters the slip, straighten out the wheel and momentarily place the boat into reverse to slow its forward momentum.
Understand the privileged/burdened boat rule. The least maneuverable boat is the privileged boat, meaning that a powerboat can maneuver itself out of danger easier than a sailboat or a large tanker, for instance. The privileged boat has the right of way, and the burdened boat must yield. The main exception is a ferry, which is normally always privileged. Another rule is when two boats are on a head-on collision course, both boats must turn to port (left) to avoid a collision.
Take a Coast Guard-approved safe boating course. These classes are offered all over the U.S., and you can finish in a day. The course gives you the basic rules of the waterway necessary to safely operate your boat. Visit the Coast Guard's boating Safety Resource Page for more information (see Resources).
References
More Articles
Photo Credits
photo_camera Jupiterimages/Comstock/Getty Images